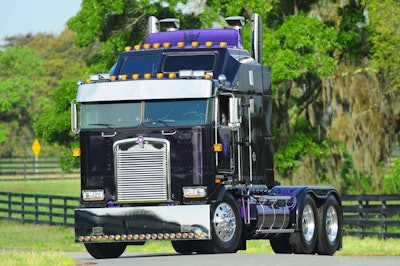 By his own admission, Travis Lyon was "a man in need of a project," and on a long drive down Tennessee highways "to just get out and clear my head," he stumbled upon an old junkyard '87 model Kenworth K100E Aerodyne that, several years before, he wanted to buy and turn into an actuality based on comics and cartoons he revered as a kid growing up in the 1980s.
'A real bastard'
Lyon says the truck's Detroit Diesel 8V92 Silver Series engine "fits the character so well because that engine just sounds so, so angry."
Being a good fit conceptually didn't make the engine a good fit during the building process, though, as the truck was equipped with a Caterpillar B-Model when Lyon picked it up from the junkyard.
To make matters even worse, the truck the engine came from was a K100C — slightly different than Lyon's K100E. "It didn't fit under the dog house correctly in the E model like it would have in a C [model]," Lyon says.
After a few test fits in the donor truck, the 8V92 was lowered into Motormaster, and the engine is one of the integral parts of bringing the character to life, Lyon says. "We really wanted to imitate Motormaster's sound going down the highway," he says.
"Since 1986, the character has been known as just being a real, real bastard. He's so mean to the subgroup he leads. They all hate him, but they all fear him, and the 8V92, sound wise, fits the character in vehicular form better than any other, which is why I built it that way."
It was sunken in the mud a bit, "and the radiator and a bunch of the metal had been stolen out of it, but it was mostly intact," Lyon says. "I still sort of saw in it then what I'd seen in the past."
And after a quick chat with his then girlfriend, now wife, he returned to buy the truck, something he says he "thought I could make a difference with and something I could turn into something positive."
In the months leading up to the truck's purchase, Lyon had lost both of his parents. His dad died of heart disease less than a year after his mom died of an illness she'd battled for years. As a self-employed engineer and consultant, he was able to take a good bit of bereavement time, and after he bought the truck, he turned his attention to converting its remains into the real-world form of the Transformers-based Decepticon Motormaster.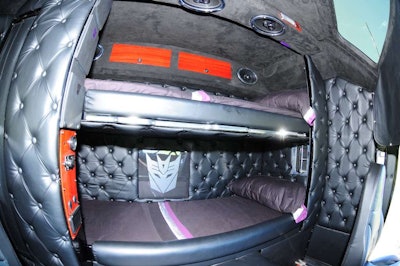 Lyon says he had "within 95 percent of what I wanted to do with it" in his head, and "from the very beginning, I told everyone involved the most important part of the project is making everything we do fit the character and making his personality make sense in this vehicular form."
Appropriately, 3-ft. by 4-ft. painting of a black and purple Kenworth K100E on down a deserted Southwestern highway at sunset hung in the shop at Blue Ridge Kenworth in Abingdon, Va., (the shop that helped Lyon rebuild the truck) throughout the entire project.
It served as a reference for everyone involved, and it was based on pencil sketches scribbled down at a four-hour brainstorming session in a Cracker Barrel before any work on the truck began.
The result is what Lyon calls "a mix of two worlds," he says, in which he mixed "a little old school trucker with the other-worldly, highly advanced, futuristic technology." Lyon says the truck's purple neon, 3,000-watt audio system, TV and Blu-ray setup and ultra-suede interior blend with the truck's chrome, eye-popping exhaust system and overall old school look to do just that.