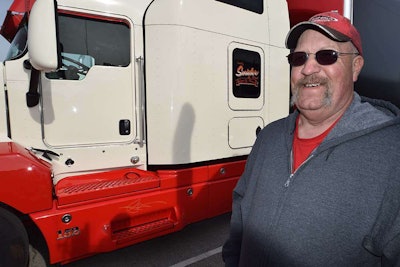 Clay Snider wasn't happy when someone backed into his 2007 Kenworth T600 a year and a half ago, crunching the hood.
"You couldn't have put a new hood on it — it wouldn't have looked right," he says. The alternative: a full renovation effort. "I got a little carried away."
The result, a luscious off-white-and-viper red combo, boasts one of the standout color schemes in the PKY Truck Beauty Championship at the Mid-America Trucking Show, which starts Thursday. Snider has entered some truck contests before, but this is his first time at MATS.
One of the truck's chief distinctions are little swirls of pinstriping, visible on the tractor and in several places much more hidden, such as on the engine and in other dark corners.
Snider's also gone to some lengths to incorporate the viper red, a factory color, inside and out. For example, he even had his painter friend, Bryan Jones, paint the PeopleNet unit to match the red.
Snider is leased to Long Haul Trucking, Albertville, Minn. He hauls steel, machinery and other flatbed freight, pulling a 2016 Western curtainside trailer.