Courtesy of Channel 19 semi-regular Zach Beadle, whose Inspection Selection System score experience I wrote about last week, we have at least one answer to that question. While the huge investments some owner-operators and small fleets make in distinguishing their tractors from the madding crowd tend to grab a lot of the custom-equipment headlines, Beadle, working with his "expert welder" son, as he says, put $17,000 into this 1986 Trailmobile he bought for a grand total of $500 to, well, put it work hauling freight and making money, pronto: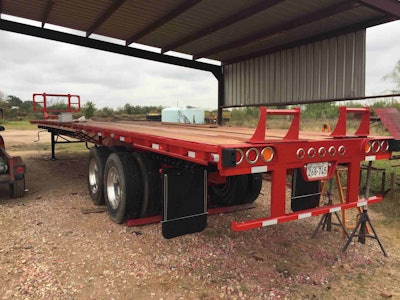 Beadle hauls livestock, hay and occasionally heavy equipment and more with a variety of trailers he's collected over the years, behind a sweet 1970s Peterbilt cabover. He bought the flatbed after seeing it in a yard where he delivers hay "for several years," he says. It'd "just been sitting there rotting," but the 1986 Trailmobile still had "a good frame and axles going for it, but some cancer (rust) in many critical places in the web of the frame, most notably in the front end pin/grid area and in the axle slider area of the frame as well. The frame still has a factory-looking camber and the rub rails are in good shape."
After bringing the trailer home for $500, he put seven months' worth of off-and-on weekend work and $17,000 worth of parts into, cutting "the cancer out and replac[ing] with new metal." Other parts of the process: Sandblasting, primer/paint, new apitong flooring, all new lights, brakes, brake valves, air lines, electric cable, bearing sets, reflective tape and "many updated features, such as a recessed license plate, spare tire rack, tool boxes, headache rack on front and" three feet of additional decking. "It had been a 102″ by 48′, but is now a 102″ by 51′ trailer."
22.5-inch steel wheels and tires, too, were updated to 24.5-inch aluminum and new rubber. "All new wheel studs, lugs and hub oilers," too, he says.
"It has cost a bit more than I anticipated," Beadle adds, "but it looks like a new trailer." He challenges anyone to "try to buy a new trailer for less than $20,000. While it has been a challenge and has cost more than I anticipated, it has been a wonderful time in rebuilding it and time spent with my boys on this project.
"Hopefully, I will this week get it inspected and a license plate" put on, "and put this puppy to work." Follow the progress in the slider gallery below from start to finish.