Transcript
Owner-operator Mel Williams, well-known as the "Truckin' Unicorn" on social media, bought this 2003 Peterbilt 379 about a year and a half prior to last fall's Mayberry Truck Show in Mt. Airy, North Carolina, where she showed the truck.
She pulls dry van freight for 5F OTR, where she's leased. "The whole business model is to link drivers with better paying freight," Williams said of 5F. "The way it works is to help minimize deadhead miles and our downtime, so we're constantly getting our next load the day before we actually deliver. With that being said, you set up your preferences so if there's states or cities you don't go to, you don't have to see it. If there's types of freight you don't haul, you never have to see it."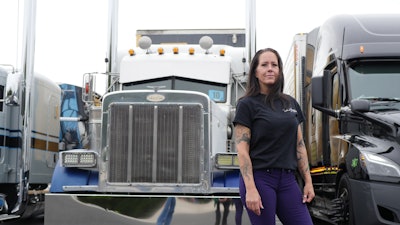 Williams said when she bought the truck, "nobody really took care of him" prior to her ownership. It had been used to haul concrete powder chemicals that had eaten the clear coat off the paint job. However, her primary concern when she bought the truck was to make sure it was going to run down the road.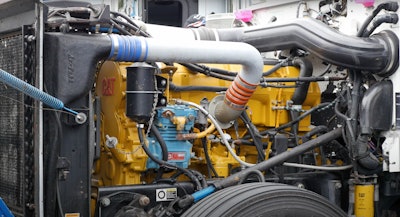 Now that the drivetrain is good to go, she's shifted her focus to working on the exterior and eventually the interior of the truck. As of October, she had added a new visor and 7-inch straight stacks. Next on the docket for the rig is the paint job, which she said will be holographic white.
"I believe that anything worth having is worth working for," she said. "I could have bought a truck that was already done, already ready. There's a sense of pride and a sense of accomplishment in doing all of those things yourself and getting it to the place where you want it to be. I have a vision for the truck, and every day I'm just working to be one step closer to creating that final vision."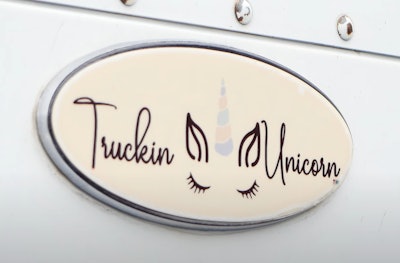 Prior to her time in trucking, Williams was an amateur competitive bodybuilder. After some time off to get settled in her truck and the trucking industry in general, she plans to get back into bodybuilding competitions in the near future.
---
Catch plenty more views of the rig in the video up top. For custom-equipment features delivered to your email inbox, subscribe to Overdrive's weekly Custom Rigs newsletter via this link.
Transcript
Melissa Williams: My truck's name is "Daddy." Your dad or your daddy takes care of you. Makes sure you're safe. Makes sure you got somewhere to live, money, that's the whole purpose. My truck takes care of me. I take care of him. It's a great partnership.
I am the Truckin' Unicorn on social media. My name is Mel. Everybody just calls me the Truckin' Unicorn. This is my 2003 379 Peterbilt. I do run a '99 6NZ motor. I bought the truck a year and a half ago.
The whole plan was to get the drivetrain good, get the truck running down the road because if it looks good on the outside, but it doesn't run down the road, it's a really pretty expensive lawn ornament that's not making you any money.
So I have literally done almost the entire drivetrain on the truck. We rebuilt the motor in December [2021], out of frame, new block, platinum rebuild. I've done leaf springs, shackle hangers, shackle hanger bushings, kingpins, re-sleeved the axle, put a new power divider in it, new rear hangers and bushings. Kind of done it all.
So the drivetrain is good. The next step is to start working on the outside. I've recently just put a new visor, new seven-inch straight pipes on him. We are going to get him painted. He's going to be a holographic white, and then we'll move to the interior and do that.