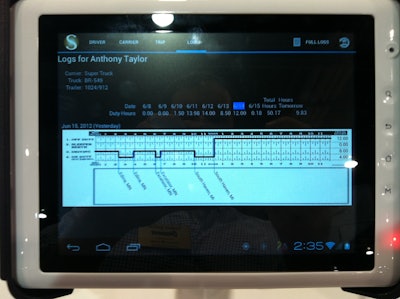 The Federal Motor Carrier Safety Administration is gathering electronic onboard recorder data for analysis as it nears March 20, the agency's projected publication date for the rulemaking.
The agency is developing a Supplemental Notice of Proposed Rulemaking regarding EOBRs and hours of service supporting documents. A SNPRM can be issued when a proposed rule is substantially different from the original notice of proposed rulemaking.
Jeff Loftus, the agency's technology chief, listed 21 email or phone communications Feb. 3 through July 27 with PeopleNet, Qualcomm, XATA and Teletrac.
The agency was drafting a Memorandum of Understanding with manufacturers to request electronic HOS data for safety and economic analysis purposes. "The data would be used as part of a broader research strategy to assess safety benefits of information technology systems," he wrote Aug. 3.
Loftus requested "feedback to an additional tweak to the language to the Memorandum to ask carriers questions about driver harassment issues" in a May 23 email to the companies. A year ago, the U.S. Court of Appeals for the Seventh Circuit vacated FMCSA's original EOBR rule after the Owner-Operator Independent Drivers Association successfully argued it provided insufficient protection against driver harassment.
FMCSA Deputy Administrator Bill Bronrott said research for the rulemaking would include surveying drivers, carriers and vendors on harassment and two public listening sessions. Also, the FMCSA Motor Carrier Safety Advisory Committee was tasked with developing EOBR technical specifications and addressing the potential of the devices for harassment, he said in a June 29 speech.
"The FMCSA is considering a proposed rulemaking to mandate the use of EOBRs for carriers currently using handwritten Records of Duty," Bronrott said.
Late next year, the Virginia Tech Transportation Institution is expected to report FMCSA-funded research on safety benefits of recorders. The study will also examine costs and if EOBRs improve hours-of-service compliance.
Last month, President Barack Obama signed a 27-month highway reauthorization bill that includes an EOBR mandate for trucks. Still, the omnibus bill's funds are unavailable for until budget authority is granted through passage of the FY 2013 appropriations legislation.
On June 29, the House approved the FY 2013 transportation appropriations bill, which the Senate placed on its calendar for consideration. It includes an amendment to block funding to implement EOBR mandate,