The Federal Motor Carrier Safety Administration's mandate for the use of electronic logging devices for the majority of interstate truckers keeping records of duty status today included mention of a new registry of approved devices. Those included will be those the FMCSA has verified conform to a raft of new technical specifications included in the mandate.
A notice on the FMCSA's website now notes that, as of the rule's Feb. 16 effective date (not the compliance date) following its December publication, approved devices in the registry will be shown via FMCSA.DOT.gov/devices.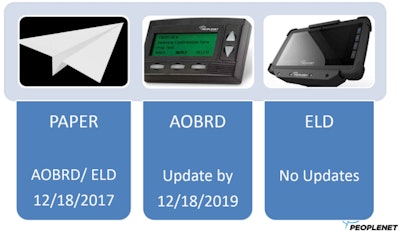 Keep in mind that those purchasing before the rule's December 2017 compliance date will be able to use existing Automatic Onboard Recording Devices (AORBDs) conforming to previous specs without updating to an ELD through Dec. 18, 2019. A comparison chart of AOBRDs (many will eventually be updated via over-the-air/Internet software mods to ELDs with few or no hardware updates, makers say) is available in our comparison chart at the link below, recently updated to include several software/hardware providers not previously shown.
PeopleNet Director of Compliance Elise Chianelli hosted a recent webinar on some of the specifics of the mandate that independent owner-operators and small fleet owner-operators facing down the mandate should consider.
Set-up of the admin account and driver account
Under the terms of the mandate, Chianelli says, an ELD driver account with a unique sign-in that is utilized for recording hours cannot have administrative rights within the overall carrier's system. An owner-operator with his/her own authority, she clarified, will need to set up not just one, but two accounts for login, his/her admin account as well as his/her driver account, the latter of which will be used day-to-day on the road.
CDL state, license number and driver identity will be associated with the account
All drivers and support personnel throughout a fleet of any size, says Chianelli, must have a unique account and password to interact with the ELD system in place, under the terms of the mandate. For drivers, account information, including their CDL "state and ID number," she adds, will follow with them through their interactions with the system and "will be transferred to roadside in the event of a audit."
Personal conveyance
A personal conveyance feature within an ELD will be used by drivers utilizing their trucks outside of the duty day for personal transportation — the mandate, Chianelli says, specifies an automatic duty status of off-duty for such uses of the vehicle.
Yard moves
In the past, fleets utilizing electronic logs have dealt with the necessity of moving trucks around the home yard by establishing certain time/distance thresholds with their software providers. The mandate, however, has established a single set of thresholds for all ELDs. As CCJ's Aaron Huff spelled out in the story at this link:
Drivers will automatically be put into driving status once a vehicle's speed hits 5 mph. Should a driver not login to an ELD, the record will be presented to the driver during the next login as an "unassigned driving" event that needs to be reconciled. Another threshold is when a vehicle comes to a stop. After five seconds, ELDs will ask drivers if they want to remain in drive or change to an on-duty status. They will have one minute to respond. –Aaron Huff via CCJ
Under the mandate's terms, a new Yard Moves feature will allow a driver or other personnel to perform those duties in an on-duty, not driving status without triggering the device by reaching the thresholds.
Read more about manufacturer plans for current-device updates via Huff's CCJ story at this link.