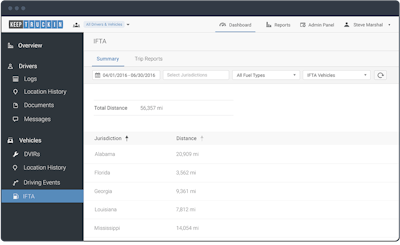 Electronic logging device provider KeepTruckin has announced it's added automatic IFTA fuel tax reporting support to its ELD software.
The company said users who subscribe to KeepTruckin's ELD Plus subscription plan can now automatically calculate the distance traveled in each U.S. and Canadian state or province.
The system allows users to calculate distance traveled in each jurisdiction for any date range, while also showing a GPS breadcrumb trail for use in case of an audit, the company said.
KeepTruckin launched its ELD in October 2015, which comes with a $30 a month service fee per vehicle for the ELD Plus service that includes IFTA reporting. A $20 per month subscription is also available that doesn't include IFTA reporting. The ELD unit installs to trucks with an engine control module, which communicates with the driver's smartphone through the KeepTruckin app.