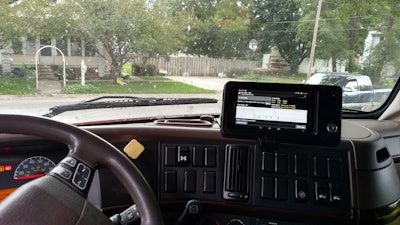 The Owner-Operator Independent Drivers Association intends to file a motion asking the court that heard its lawsuit against the U.S. DOT's electronic logging device mandate to rehear its case.
OOIDA Executive Vice President Todd Spencer says the request for a rehearing will be made to the 7th Circuit Court of Appeals, following the court's Oct. 31-issued decision to uphold the mandate.
Three of the 7th Circuit's 13 judges heard the case, and they were randomly assigned, says Spencer. A rehearing would draw the full 7th Circuit bench to the case, if OOIDA's motion is granted, and would allow the owner-operator advocacy group to again state its arguments against the mandate. "It may have just been that the luck of the draw was not on our side," Spencer says. "The issues we raised are really important issues. It seemed like they dismissed the same issues the judges took pretty seriously just five years ago," he said, referring to the 7th Circuit's decision to vacate FMCSA's 2010-issued rule to mandate electronic logs.
The ELD rule, OOIDA argues, violates truckers' 4th Amendment rights, promotes harassment of truckers by their carriers, doesn't comply with Congress' directives and is more costly than beneficial. The judges that overhead and ruled on the case dismissed those arguments.
If the 7th Circuit denies OOIDA's request for a rehearing en banc, the group will likely appeal to the U.S. Supreme Court, Spencer says.
The ELD mandate was made final by the Federal Motor Carrier Safety Administration last December. It will require nearly all drivers using paper logs to switch to an ELD by Dec. 18, 2017, save for those operating pre-2000 year-model trucks — a notable exception granted in the rule.
OOIDA filed its suit against the rule in March. Oral arguments were heard in Chicago on Sept. 13.