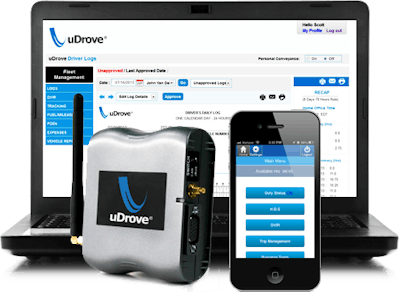 Truckstop.com's uDrove smartphone app was one of the first of its kind in the trucking industry, offering multiple functions in a single software package, including logs for hours of service recording. uDrove moved into the BYOD ("Bring Your Own Device") ELD market several years ago but recently re-evaluated the product and began its sunset. Truckstop.com Mobile General Manager Thayne Boren notes it is ceasing uDrove support at the end of June for all users. User data "will be available until December 31, 2017, to support any inspections or audits," he adds.
Truckstop.com, he says, is committed to assisting customers in finding a new vendor individually and, as Boren revealed in conversation with Overdrive, collectively. The company is building an ELD marketplace into its many online tools, partly a result of its survey of the quickly burgeoning market for the devices. "We are hoping our marketplace will be a destination for carriers to find 'vetted' [ELD provider] companies who are likely on a path for success beyond 2019," Boren says.
The company is inviting select vendors to offer their solutions through the marketplace, with an eye for quality companies, Boren adds. "We've had some really good discussions with 15 companies" so far, he said last week, "from the largest folks to a few start-ups. The goal is to have a few different options," whatever the size and needs of the carrier.
Things the company's looking for, he says, include longevity in the trucking industry and current size of customer base for those who are already successful in the market. Among start-ups, it is looking for those inking the kinds of industry partnership that will likely drive future success.
As for when the marketplace might debut, Boren noted a goal of early summer this year.