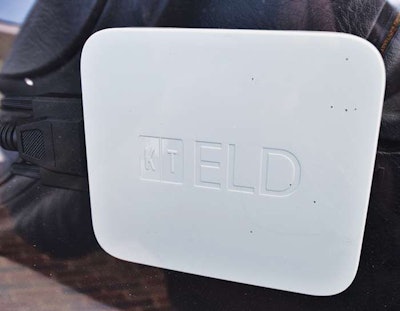 In a bid to garner more business, the KeepTruckin electronic logging device provider has launched what it's calling the "Shifting Gears" program to offer an account credit to offset some of the cost to users who switch from another ELD provider to KeepTruckin. The buyout program is open to any-size fleet using any ELD provider's system.
The program was inspired by a recent survey of more than 4,000 truckers conducted by KeepTruckin, intended to better understand issues of reliability within ELD platforms — which Overdrive has recently reported on in the "ELD headaches" feature — and the level of satisfaction with their chosen vendor. About a third of respondents were KeepTruckin users, the remainder using another ELD platform.
A majority of respondents who were not KeepTruckin users reported a significant level of dissatisfaction with their ELD, with 42 percent of non-KeepTruckin users reporting three or more ELD-related technical or service issues per week. (Only about a quarter of KeepTruckin users reported more than 1 issue experienced per week, the company says, and their customer satisfaction levels with reliability and customer service were in the 80-plus-percent satisfied range.)
Dissatisfaction with customer service, too, was reported by 64 percent of non-KeepTruckin users, company reps say.
"It is critical, from a business and a safety perspective, that ELD systems work seamlessly for drivers. Experiencing three or more issues a week is completely unacceptable," said KeepTruckin CEO Shoaib Makani.