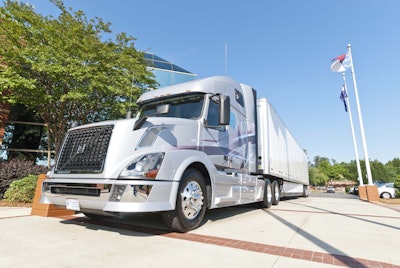 Ask a truck maker if you can take one of their trucks for a spin, and they usually toss you the keys to the baddest truck in the lineup, complete with every bell and whistle. So I was a little surprised when I arrived at Volvo's headquarters in Greensboro, N.C., to discover Frank Bio, Volvo's product manager, had selected a mid-level trim VN 670 for my drive.
In Bio's nearly 40-year career with Mack and Volvo, he's probably forgotten more about trucks than most people will ever know. I quickly see his wisdom in selecting a mid-tier tractor to show Overdrive: It packs a ton of performance and capability to boot, and there's nothing middling about its appointments.
During a walk-around, it was easy to forget just how different the VN tractor was when it first appeared on the North American market in1996. It was one of the first true aerodynamic tractors, a real departure from the long, square noses of most other tractors.
At the time, Bio says, "A lot of people just didn't see the point. Fuel was selling for about $2 a gallon at the time. But when fuel prices skyrocketed, the VN made perfect sense to fleets and owner-operators alike. And today, virtually every truck you see introduced to the market has an aerodynamic design."
Volvo engineers haven't let up over the years, so this is still one of the most slippery tractor designs available. This particular truck features Volvo's full-on aerodynamic package with an adjustable roof wing, full side fairings and a host of back-of-cab features designed to facilitate air flow around the cab-trailer gap.
The spacious cab interior looks better than a typical medium-level trim package. The skylight and upper side windows can be quickly covered to black out the sleeper area. This model features a twin-bunk sleeper configuration for teams. Both bunks fold out of the way to reveal a well-situated work station with comfortable couch seating and plenty of storage.
Up-front instrumentation is sparse on this trim level, but no worries: The Volvo Driver Information System featured in the center of the instrument cluster makes most of the gauge banks you see on premium-spec interiors obsolete anyway.
The system is directly tied into the drivetrain and all critical vehicle systems to deliver performance and diagnostic information as well as real-time driver performance and fuel economy data. The truck also is wired for the new Volvo Link telematics system. Not only will the truck tell you if there's a problem – an alternator not putting out a full load, say – if you're a Volvo Link subscriber, the truck will alert your fleet or home base to the nature and severity of the problem.
If the problem isn't critical, it will tell you to keep rolling while a repair facility is located, parts availability is lined up and an ETA/repair time is scheduled. It's all done wirelessly via the Internet. In a related touch, Volvo also recently made Bluetooth capability standard on all its tractors.
Bio picked a 250-mile loop for us, heading out of Greensboro on I-40, where we'll kiss the suburban edge of Raleigh before picking up quiet back roads through Sanford, N.C., and back to Volvo headquarters.
We'll have to pull some moderate hills, but my main challenge today will be traffic in this booming area of North Carolina. It's no sweat, though.
At highway speeds, the D13 diesel lugs effortlessly, and you hardly notice – the interior is quiet, thanks to the sleek aerodynamic profile and Volvo's sound- and vibration-dampening engineering.
The optional hood-mounted mirrors also help in heavy traffic. My inclination is to check side-mounted mirrors first, but eventually I found the hood-mounted mirrors' views more helpful.
Premium seats are part of the mid-level trim, including a back-cycler function. At the touch of a button, the seat cycles through lumbar positions designed to ease back strain and keep a driver comfortable and alert.
Full driver-side air bags are standard. In the event of a frontal impact, the drivetrain is engineered to drop beneath the chassis instead of crashing into the cab of the truck.
The real star of the Volvo VN show, however, has to be the fully-integrated XE13 drivetrain. Bio recounts how engineers realized that the powerful onboard electronics combined with Volvo diesel engines and the iShift automated transmission could be made to communicate with each other at lightning-fast speeds to give drivers unprecedented vehicle performance.
A central computer compares thousands of data points per second, such as available gears, engine RPM, available torque, throttle position and cruising speed. Then it calculates the best performance characteristics to ensure maximum fuel economy while still giving plenty of power and torque.
You spot this right away at cruise speeds. Volvo engineers understand that lower-revving engines use less fuel. A quick glance at the tachometer at 70 mph shows the engine is ticking at about 1,100 rpms. Checking the Driver Information System, I see I'm logging an easy nine miles per gallon during our initial cruise on the less congested portions of I-40, quite impressive for a full 80,000-pound gross weight. Traffic and hills eventually dropped that average to a little over 7 mpg for the day. Not bad for a mid-level tractor.
2013 Volvo VN 670 specs as tested
Gross Vehicle Combination weight: 80,000 pounds
Engine: Volvo D13
Horsepower: 425 hp
Torque: 1,725 lb.-ft.
Transmission: Volvo I-Shift ATO2612D
Gears: 12
Alternative drivetrain concept package: XE (Exceptional Efficiency)
Front axle: 12,500 pounds
Rear axle: 40,000 pounds
Optional: Volvo Enhanced Stability Package, ABS traction control, hood-mounted mirrors