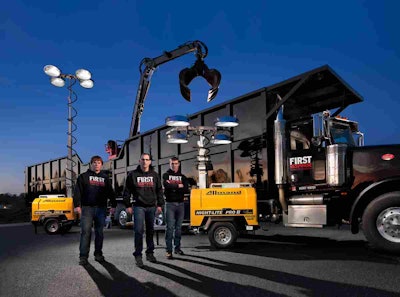 Tad Agoglia and his crew (pictured) arrived to what was left of Haiti within a week of the 2010 earthquake that left large swaths of Port Au Prince in a shambles. The team used their Cat excavator and Peterbilt dump truck to clear rubble for a medical clinic, and along the way Agoglia was struck by opportunity to fill a vast need. "I began to realize no one organization can fix everything," he says, "but it's extremely important we all make a contribution."
For nearly five years, that's been the essence of his charity work with his First Response Team of America. In 2007, after a tornado tore through Greensburg, Kan., Agoglia used heavy equipment from his own for-profit hurricane clean-up contracting business to help residents and business owners in ways other organizations couldn't.
"I saw a need for heavy lifting," Agoglia says. "I wanted to take what I had and see if I could assist." By 2009, after serving as first responders on the scene of at least 18 storms, the First Response Team officially became a not-for-profit. Companies like Caterpillar, Peterbilt and chainsaw maker Stihl began donating critical equipment to Agoglia's efforts.
Agoglia says he is adding equipment owners and truck drivers from his Pennsylvania hometown to the First Response team of seven people. –Amanda Bayhi
The First Response Team's efforts earned Agoglia a 2009 CNN Hero award. Following find a video presentation of the award, with clips of his crew and equipment in action, and hear Agoglia's speech. Visit FirstResponseTeam.org for more.
[youtube OgBmvJZf29I nolink]