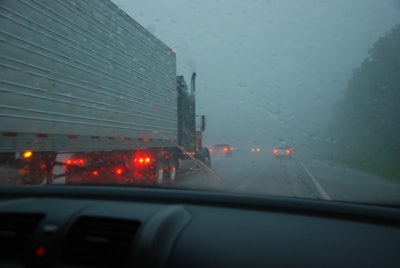 Over recent years, wiper blades have seen one basic change and the addition of some special features.
The introduction of beam blades in the last decade or so has increased the effectiveness of wipers, says Paul DeGrouchy, vice president of sales for Scrubblade.
Conventional or traditional blades have an exposed frame where the rubber part of the blade attaches. These blades sit higher off the windshield, so they are more susceptible to wind lift and tend to accumulate snow and ice. Conventional blades remain standard on a third of all new vehicles, according to blade manufacturer Trico.
Beam blades are sleeker, with a lower profile and no exposed frame. That makes them more aerodynamic and less likely to accumulate snow. They're also curved, allowing them to keep better contact with windshields of later-model trucks.
Beyond the use of beam blades, other features can increase blades' effectiveness. DeGrouchy's product has two blades – one to agitate bugs, bird droppings and other matter stuck to the windshield, and another to wipe off the loosened material.
While operating in snow and ice is obviously tough on wipers, what's less apparent is the effect of extreme heat, particularly in the Southwest. "Drivers that run in the desert tend to find that blades get destroyed by heat and sunlight and almost melt to the windshield," DeGrouchy says.
Another option for severe winter driving is heated blades, allowing you to melt snow and ice from wipers while still in the driver's seat.
Josh Jenson, operations manager for heated blade manufacturer Everblades, says many trucks have extra auxiliary dashboard switches where a heated wiper system can be connected via plug. Installation requires hooking four wires – a ground wire and a power wire for each blade – into the engine compartment.
"If the blades are fully encrusted in ice, it takes between two and five minutes to melt them," Jenson says. "The electronics in the system are sealed, so there's no worry of anything getting wet and shorting out."
Jenson says the blades typically last as long as normal blades, so they need to be changed once or twice a year.
Thermalblade uses built-in thermostats with its blades that begin heating at 38 degrees. Like Everblades, Thermalblade wipers install normally on the windshield but have a wiring harness that goes into the engine compartment and connects to the fuse box for power.
An Everblades kit of two wipers costs about $140, while Thermalblade wipers retail for $74.99 each. Once the Thermalblade system is installed, the company sells blade replacements for $10 to $20. Everblades replacements are $55.
When is it time to change blades?
Wiper blades are worn out if you notice streaking or skipping, the blades missing spots on the windshield, or the rubber separating from the bracket. However, for good preventive maintenance, wipers should be replaced between six and nine months, depending on usage and environment.
"A lot of people wait to change them out until they can't see anymore, but it's best to be proactive to avoid that," DeGrouchy says. "Keep extra sets of blades in the truck, especially between October and March in the winter climates."
A good rule of thumb for preventive maintenance, he says, is to change blades when daylight-saving time changes. That ensures you'll start each hot and cold season with a fresh set.