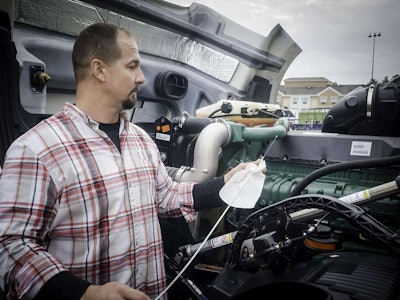 To ensure you don't literally grind your operation to a halt, first ensure that current engine manufacturer recommendations are being met, says Shawn Whitacre, senior staff engineer at Chevron.
Owner-operators and small fleets tend to be more conservative with existing drain intervals, often not realizing the original equipment manufacturer recommends intervals longer than what they're practicing.
"In a lot of cases, they can comfortably, and with OEM endorsement, extend drain intervals without any special action," Whitacre says.
Other important considerations are the truck's application and idle times.
"Sometimes an engine may not be accumulating miles or hours but is still aging the oil to some extent," Whitacre says.
Owners should work with their OEM and oil supplier when identifying a new mileage target, especially if the engine remains under warranty, says Stede Granger, OEM technical services manager for Shell Lubricants.
"Most OEMs do agree there is room to extend an oil drain, but they want it done correctly, which includes looking at the oil analysis," he says.
Brand specifics
Volvo owners who wish to exceed the recommended 60,000-mile drain intervals using Volvo-branded VDS4.5 should begin by submitting a request to Volvo Powertrain, says John Moore, Volvo Trucks North America's powertrain product manager.
If conditions are met, including evaluation of an oil sample analysis, Volvo fluids experts would determine if an extension is allowed and its length. Moore says exceeding the oil change interval without consent from Volvo violates the warranty.
Detroit offers a new "Efficient Long-Haul" interval for its DD13 and DD15 engines that applies only to over-the-road duty cycles that exceed 7 mpg. For the DD13, this means that a tractor can travel up to 65,000 miles between oil and filter changes, and for the DD15, up to 75,000 miles.
Paccar's MX-11 and MX-13 engines come with a 75,000-mile interval, up significantly from the 40,000-mile interval for the MX lineup when it was introduced in North America in 2010.
International's A26 engine offers a standard drain interval of 50,000 miles for customers with fuel economy greater than 6.5 mpg. An extended drain program can allow for up to 70,000 miles if OEM approval is granted through oil analysis and review.
Cummins' OilGuard program offers free oil analysis. Cummins personnel will recommend drain intervals, which the company says can be pushed upward of 80,000 miles on newer engines depending on the application.
Preventive maintenance
If you begin an extended drain interval, consider how it will integrate with other preventive maintenance schedules, Granger says.
"If you're draining oil at the 75,000-mile mark, a lot of chassis parts that require grease can't go that far," he says. An owner needs to coordinate schedules in the simplest ways so there is no confusion and nothing gets overlooked or extended beyond its proper limit.
There's also the oil filter to consider. Whitacre says approaching 100,000 miles isn't a challenge for most filters' ability to handle the fluid, but the extended period of being mounted to the engine can cause issues, so it's good to check that the filter remains securely in place.
"These things are designed to withstand a certain amount of time shaking around on an engine," he says.
In most cases, unless you can double the drain interval – or push it to where the oil is changed every other time the truck is scheduled for service – extending it may not make sense.
At the small fleet level, operations with rigorous maintenance schedules are often the best candidates for sizeable extended intervals, Whitacre says. Since other systems on the truck often are serviced during oil changes, the overall mileage target will include various elements of a fleet's overall PM program.
"The fleet doesn't always get a lot of benefit from a small incremental increase because they may have other PMs to do on the vehicle at a different cycle," he says. "There isn't a one-size-fits-all answer to that."
Application matters
Engines achieving at least 8 mpg are among the best candidates for extending drain intervals.
"Fuel is an indicator of the work that's done by the engine," Granger says. "If the engine has consumed less fuel, it's done less work, and fewer contaminants can be found in the crankcase."
Drain intervals often are proportional to fuel consumption, with higher-mpg trucks offering more flexibility for them.
"There's a strong correlation between how fast the oil degrades and how hard the engine is working, and fuel economy is a very good indicator for that," Whitacre says. "The more fuel you burn, the faster the oil degrades."
Humphrey says stop-and-go driving causes oil to break down more rapidly than fewer stops, so oil changes for these vehicles need to be more frequent.
"For vehicles making long-distance trips where optimum road and engine speeds can be maintained for long periods, there is generally less stress on the oil, and longer drain intervals can be achieved," he says.
Granger and Whitacre recommend any transition for out-of-warranty trucks to be done in consultation with someone who can interpret oil analysis data. "Make sure they're not saving money in the short term but compromising the integrity of their product longer-term," Whitacre says.
Granger says on older trucks, an oil distributor often makes a good primary resource for evaluating candidates for extended drain intervals. However, that process will mirror the plan recommended by an OEM expert.
"We're going to recommend right off the bat that they do an oil analysis," he says. "You always have to have a reference point. You've got to know what is happening in your crankcase."
—
A guide to oil analysis
The results of oil samples taken at regular intervals lead to an identifiable trend that is used to track and improve engine performance, says Brian Humphrey of Petro-Canada Lubricants.
In addition to providing the opportunity to optimize oil change intervals, a good oil analysis program also can help reduce unscheduled downtime, improve equipment reliability, extend equipment life and reduce maintenance costs, he says.
"By evaluating the condition of your lubricant and equipment on a routine basis, minor mechanical problems are discovered before they become serious and expensive to fix," Humphrey says. The process is simple:
TAKE A REPRESENTATIVE SAMPLE. The sampling point should be wiped clean, and a small amount of oil should be flushed first to ensure against contamination. Put the sample in a clean, dry container. Affix a label with information the lab will put into its database, including fluid name, equipment type, hours and miles of operation.
Improper sampling can lead to inaccurate results, and then potential equipment damage or failure, so be thorough with this step.
SEND THE SAMPLE TO A LAB. Promptly send the sample to a certified oil analysis lab. Delays can mean the difference between being able to correct a condition and losing a piece of equipment due to failure.
INTERPRET THE DATA. The lab will provide results and diagnosis in a report that can be sent by email or viewed online. Some labs also supply online software for storing and assisting in interpreting ongoing oil sample results.
Establish guidelines on what levels are normal for the particular machinery being tested and how it operates. Looking at trends over time for each parameter can offer more information than absolute single values.