Trucking news and briefs for Monday, Nov. 22, 2021:
Western Star recalling more than 7,600 trucks
Two recalls from Daimler Trucks North America will impact more than 7,600 Western Star trucks, according to National Highway Traffic Safety Administration documents.
One recall affects approximately 7,128 trucks for a potential electrical issue, and the other affects approximately 479 trucks for a potential steering issue.
The larger of the recalls affects model year 2017-2019 Western Star 4700, 4900, 5700, and 6900 trucks. The affected trucks have a power stud that passes through the bulkhead. In certain circumstances, the power stud may contact the bulkhead and result in an electrical arc, increasing the risk of a fire.
Dealers will replace the pass-through power studs, free of charge. Owners can contact DTNA customer service at 1-800-547-0712 with recall number FL-907. NHTSA's recall number is 21V-882.
The other recall affects model year 2021-2022 Western Star 49X trucks, in which the steering shaft may not have been properly installed, causing it to separate from the steering gear.
Dealers will inspect the steering shaft and repair it as necessary, free of charge. Owners are advised to not drive their vehicles until the inspection has been performed. Owners can contact DTNA customer service at 1-800-547-0712 with recall number 905. NHTSA's recall number is 21V-864.
New carrier portal for broker Kingsgate Logistics
Kingsgate Logistics has launched its new Broker Advantage customized suite of freight management tools "powered by Trucker Tools" that enables improved engagement, support and operational efficiency for Kingsgate Logistics' network of qualified truckload carriers, the company said. The West Chester, Ohio-based Kingsgate company's book of business includes truckload, LTL, expedited, intermodal, and international shipping.
Working with Reston, Virginia-based Trucker Tools, Kingsgate's new carrier portal delivers purpose-designed features, including enhanced load searching, a customized daily load alert (prioritized based on carrier profiles), and a direct link to the Trucker Tools "Book it Now" app that enables the carrier to accept and confirm a load with one click.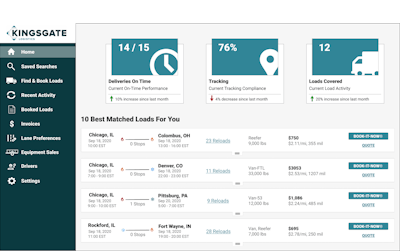 Truckload carriers of all sizes can now choose to engage with Kingsgate through the branded Broker Advantage mobile portal or the Trucker Tools mobile driver app.
CVSA launches Human Trafficking Awareness Initiative
The Commercial Vehicle Safety Alliance is launching a new annual three-day Human Trafficking Awareness Initiative (HTAI) early next year in Canada and the U.S., corresponding with each country's Human Trafficking Awareness Day.
In the U.S., the initiative will start on U.S. Human Trafficking Awareness Day, which is Jan. 11, to Jan. 13. In Canada, it will start on Canada's Human Trafficking Awareness Day, which is Feb. 22, to Feb. 24.
This initiative is an awareness and outreach effort to educate commercial motor vehicle drivers, motor carriers, law enforcement officers and the general public about the crime of human trafficking, the signs to look for and what to do if you suspect someone is being trafficked.
"Human traffickers often use roadways as the mode of transportation for transporting their victims," said CVSA President Capt. John Broers with the South Dakota Highway Patrol. "Since our roadways are the 'workplace' for truck drivers, motorcoach drivers and commercial motor vehicle inspectors, they are in a prime position to make a difference in helping to identify potential victims of human trafficking."
In preparation for the 2022 Human Trafficking Awareness Initiative, CVSA is offering human trafficking awareness resources to its membership and working with the Truckers Against Trafficking organization to distribute wallet cards and window decals. In addition, during the three-day awareness initiatives, CVSA jurisdictions will note human trafficking awareness and outreach data and submit that data to the Alliance.