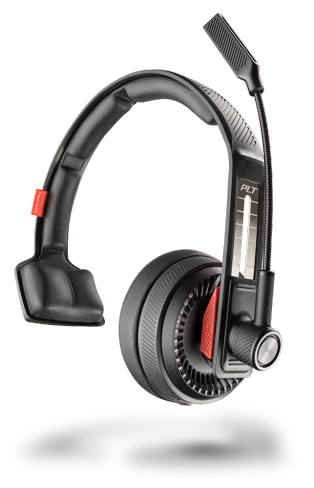 Staying connected while on the road is not something truckers need from time to time. Professional drivers must be in touch and accessible whenever and wherever they're driving.  And, they need to do it with a device that is reliable and comfortable.
Made for truckers, the Voyager 104 Bluetooth headset from Plantronics is lightweight and comfortable, but durable. It also has a long battery life to help you stay connected.
With a balanced mono, over-the-head design, memory foam padding headband and close-fitting earcups, the Voyager 104 provides all-day comfort. This allows you to put it on and keep it on; that's one less thing to worry about as your drive.
Rugged materials with moisture-resistant coating help make the Voyager 104 up to the rigors of the road.
Its adjustable snake boom mic and noise-canceling technology pick up more voice and less road noise, meaning you can hear and be heard. The on-ear controls are easy to access even while driving.
The Voyager 104 also:
delivers up to 24 hours of talk time on a single charge

has 2i nano coating to protect it from sweat, water and dust and the rigors of the road

features multipoint Bluetooth connectivity so you can connect to two devices

lets you stream music and GPS directions to always keep you connected

has a Bluetooth range of up to 60 feet
Available in travel centers and online.