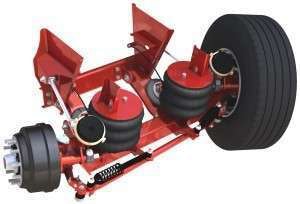 Watson & Chalin's SL-2065 Tru-Track 20K self-steering axle and lift suspension system weighs 1,327 pounds and provides added maneuverability with a 25-degree wheel cut.
The lift axle, compatible with 445/65R22.5 tires and air-disc brakes, has a parallelogram design that provides a 27-inch packaging space to allow for easier configurations and is offered in ride heights from 8 to 13 inches featuring a quick-change ride height system.
The SL-2065 20K also offers maintenance-free Huck fasteners, a 12-inch axle travel, a narrow 89 drum face for increased body clearance, a reverse lock-out kit option, dual self-centering stabilizers, a fabricated axle, a preset caster and preplumbed options.
The company's trailer axles are available in capacities up to 25,000 pounds and N or P spindles, drum or disc brakes, 12¼- to 18-inch brakes, various wall thicknesses and fully dressed wheel-end packages.
For more information, go to www.watsonsuspensions.com.