Even the best, most proficient truck driver on the road today needs a little help from time to time, and he can get it from some of today's top technologies.
Garmin dēzl 580 LMT-S
Garmin's dēzl 580 LMT-S is loaded with features to make your driving day as stress-free as possible. It can be paired with Garmin's ELD, which is sold separately, saving even more time and trouble.
The 580 LMT-S' bright 5-inch screen displays a variety of features that address the growing demands made of the professional driver. This GPS begins helping with its trip planning capabilities and keeps drivers on track as their trips unfold.
Especially noteworthy about the 580 LMT-S is its ability to sync with your smartphone for hands-free calling using the GPS the unit's microphone and speakers. When paired with your phone, text messages and other alerts also show up on the 580 LMT-S' video screen. Voice-activated hands-free navigation allows you to speak to the dēzl 580 LMT-S GPS Navigator, and it responds while your hands remain on the wheel.
Skullcandy Indy True Wireless Earbuds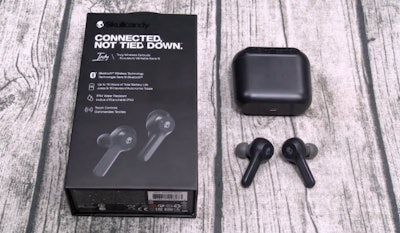 Skullcandy's Indy True Wireless Earbuds do everything you expect of Bluetooth-enabled listening. They deliver maximum sound with minimum weight and intrusion. They pair quickly and easily with your smartphone, tablet or other devices. Their wireless design also eliminates the cables that may get in your way as you drive.
The Indy delivers 16 hours of battery life; IP55 protection against sweat, water and dust; quick and easy Bluetooth pairing with your devices; a pocket-sized portable charging case with a USB micro0charging cable; three different sizes of ear gels and a separate, removable stability gel to ensure a proper fit; and noise reduction.
You can change songs, adjust the volume and manage calls just by tapping the earbuds.
Alcove Mobile Laptop Privacy Workstation
Living on the road as an OTR trucker often means working in public places such as truck stops or fast-food restaurants that have free wifi and halfway decent coffee.
But that can mean having sensitive work or personal documents visible to others nearby. That's why the Alcove Mobile Laptop Privacy Workstation could make sense. This laptop case unfolds to create a modest privacy barrier for your computer.
You can see your screen, but others can't. It also has a built-in light bar so you can work in low-light conditions or at night. The Alcove is available in several colors and for 13- or 15-inch laptops.
RoadPro 12-Volt Portable Roaster
RoadPro's 12-Volt Portable Roaster gives you a wider variety of options and capabilities to prepare the kinds of meals you enjoy when you are not on the road.
This portable roaster stars at cooking from scratch or reheating leftovers, grocery store-prepared meals or the kind you can have prepared and delivered by one of the many services. Its 5-foot-long heavy-duty cord plugs into your truck's 12-volt power port and can heat food up to 225 degrees.
The roaster can accommodate a reusable 6-by-9-inch glass baking dish or disposable aluminum pans that can make onboard cleanup easier. It also has a vented glass lid with locking handles for safe baking as you travel. The roaster is 7.9-by-11.5-by-4.7 inches and weighs about 3 pounds.
Leatherman P4 Multitool
If you can't have a large toolbox on your truck as you travel, then you ought to have Leatherman's P4 Multitool. It has 21 separate tools and a magnetic closing system that makes it easy to use and store and indispensable for your truck.
The P4 packs needlenose and regular pliers, wire and hard-wire cutters, an electrical crimper/wire stripper, spring-action scissors/saw, regular and serrated knives, a package opener/pry tool, a can and bottle opener, wood/metal files, an awl, a ruler and Phillips medium, small and extra-small screwdrivers.