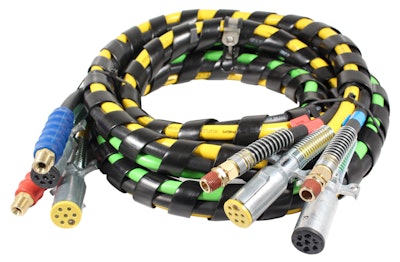 Phillips Industries' 4-In-1 combination electrical and air assemblies are available for liftgate and auxiliary cables with multiple plug and seal options.
The spiral wrapped assemblies with a hanging clamp and clip help keep cables kink-free and organized for a cleaner look. They combine the Phillips straight ABS Lectraflex cable, two rubber air lines and the option of a second electrical cable to operate a liftgate (single or dual pole) or other auxiliary equipment (Isoflex cable).
The 4-in-1 ABS Lectraflex cable is available with various plug and seal options, including the Sta-Dry QCMS2 or Weather-Tite Permaplugs designed to seal and lock out road contaminants, and the QCP (Quick-Change Plug) built to simplify field repairs.
The 4-In-1 assemblies are available in various lengths and cables. Phillips also offers a 3-in-1 assembly that combines its straight ABS Lectraflex cable with two rubber air lines in a spiral-wrapped bundle that includes a hanging clamp and clip for easier installation. For more information, go to www.phillipsind.com.
– See more at: https://www.ccjdigital.com/business/product/14928730/phillips-offers-new-electricalair-assembly