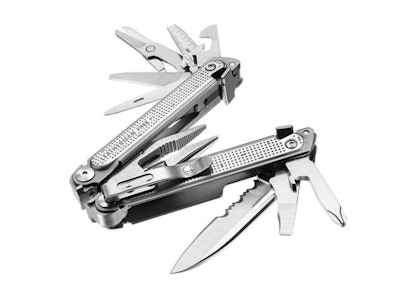 If you often find yourself needing to fix something and are loathe to dig through a large toolbox for the item you need, then you'll want to stash the Leatherman Free P2 someplace handy in your truck's cab. From multi-tool master maker Leatherman, it has all of the tools you expect from them, but in an even easier to use package.
The Free P2 features 19 tools:
Needlenose pliers
Regular pliers
Replaceable wire cutters
Replaceable hard-wire cutters
Electrical crimper
Wire stripper
420HC combo knife
Spring-action scissors
Package opener
Awl
Can opener
Bottle opener
Wood/metal file
Phillips screwdriver
Medium screwdriver
Small screwdriver
Extra-small screwdriver
Pry tool
Ruler (1.41 in | 25 mm)
Unlike its Leatherman predecessors, the Free P2 uses magnets to make it easier to open, even with one hand.
The Free P2 retails for about $120.