Carrier Transicold is now offering two premium performance versions of its Vector trailer refrigeration system, delivering ultra-high efficiencies and significantly reduced emissions for regulatory compliance and improved sustainability, the company said.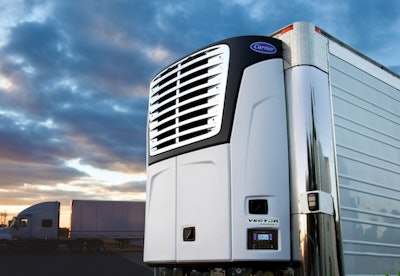 "The new Vector 8700 single-temperature unit and Vector 8800MT multi-temperature unit build upon the legacy of E-Drive, the all-electric refrigeration technology pioneered and refined by Carrier Transicold, and used by thousands of fleets worldwide," said Bill Maddox, Senior Manager of Product Management, Truck Trailer Americas, Carrier Transicold. "These premium performance units reduce particulate emissions by 96% while adding significant gains in fuel efficiency compared to standard Vector models."
The new units feature an advanced version of the smart engine used throughout Carrier Transicold's existing trailer platforms. Unit benefits include:
Enhanced compliance -- Under current regulations, the premium performance Vector units provide lifetime compliance with the California Air Resources Board's (CARB) stricter emissions rules for trailer refrigeration systems.
Better fuel economy -- The advanced engine used in both units features common-rail fuel injection for optimized fuel delivery that reduces consumption by 5%-10%, the company said. The new third speed, called "eco speed," automatically decreases engine rpms during intervals where conditions permit, improving operating efficiency compared to normal low-speed operation, with greater fuel savings. 
Sustainability -- The units use R-452A refrigerant with a global warming potential 45% lower than that of the traditional refrigerant, R-404A. The efficient common rail fuel system and a diesel oxidation catalyst push particulate, hydrocarbon and NOx emissions to new lows, making the units the most environmentally responsible models in the Vector Series, Carrier said.
Built-in electric standby -- The units' refrigeration and freezing capacities remain constant when using integrated plug-in electric standby capability. During use, the Vector units' electric standby capability eliminates engine fuel consumption, noise and emissions, and reduces operating costs.
Simplified maintenance – E-Drive technology provides a streamlined unit design in which the diesel engine is direct-coupled to a high-output generator that produces power for the electric system, eliminating many common serviceable components, the company said. Intelligent controls automatically activate individual components, running only what the refrigeration system needs, precisely when needed, so components run less and last longer than traditional counterparts.
The units are equipped with Carrier Transicold's Lynx Fleet telematics offering for remote monitoring of temperatures, location, movement and system operating performance (subscription required). 
[Related: Reefer madness -- tricks of the trade to make sure you get paid]