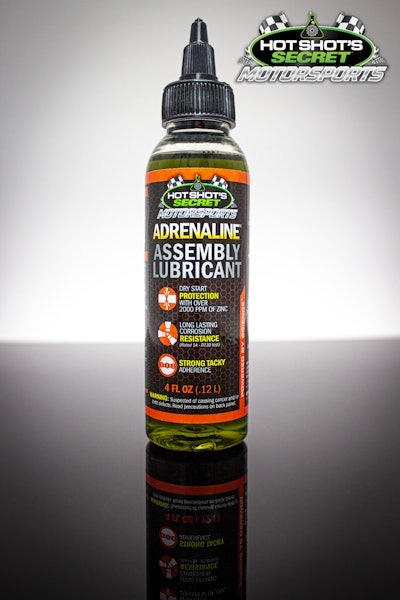 Hot Shot's Secret announced this week the launch of its new Adrenaline Assembly Lubricant.
The corrosion-resistant assembly lube has extreme dry-start protection and a strong tacky adherence to parts, the company said. It's also meticulously engineered to provide optimal performance during crucial assembly and start-up processes.
Formulated to blend 100% with any commercially available break-in oil, Adrenaline Assembly Lubricant provides a noticeable long-lasting coating that clings to metal surfaces through the initial startup process. It adds much-needed lubricity to all engine parts including camshafts, bearings, valvetrain components, and engine fasteners, such as head bolts and studs, connecting rod bolts, and other fasteners.
Adrenaline Assembly Lubricant can be used with any engine assembly application -- gasoline or diesel -- and is designed to work with all camshaft types. It is now available online and with select dealers for an MSRP of $9.99 for a four-ounce container.