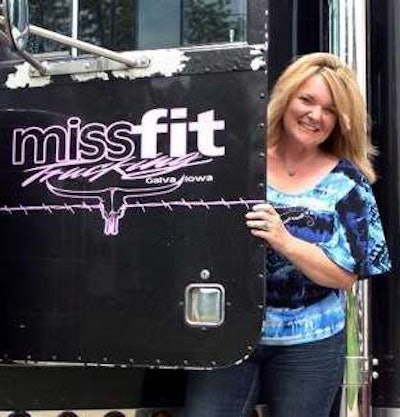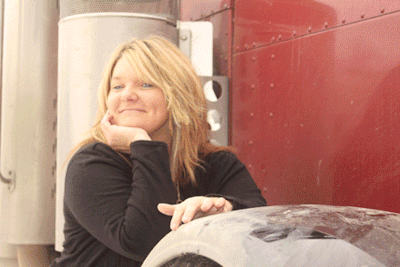 Maggie Stone was voted into the top 10 in the Overdrive's Most Beautiful contest.
Name: Maggie Stone
Independent Owner-Operator: Missfit Trucking
Years in trucking: 21
What you haul: Hogs for AgFeed Industries (based in Iowa) and Dan O'Brien Trucking. I also haul cattle.
Truck's make and model: 1999 Peterbilt 379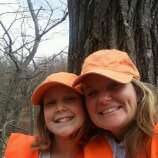 Maggie Stone is carrying on a family tradition. Her father, uncles and grandfather all drove trucks, but she's the first woman in her family to do so. And of all the loads to pull, hers may be one of the least ladylike, but this independent owner-operator doesn't mind getting a little smelly and dirty while pulling hogs and cattle across the country. She considers herself just one of the guys, she says.
"Sometimes I'm my own worst enemy. I'm in a man's world, and I don't like to ask for help, which can be difficult when you're moving 300-pound hogs," she says with a laugh.
After two years in the Army in the late '80s, she started driving professionally in 1992. Through all that time on the road, she's grown to appreciate the sense of family and community there is in trucking. So much so, that she dedicates her time, money, and her truck to helping needy trucking families every Christmas, and she's volunteered with Trucker Charity Inc., a group that helps truckers in need year round. When Arrow Trucking Co. filed for bankruptcy in 2010, Stone and a large group of volunteers worked hard to bring truckers home safely who were still on the road.
OVERDRIVE: What made you decide to enter this contest?
STONE: I didn't—somebody else entered for me. I don't know who yet, but I am narrowing it down. I'm just tickled someone entered me, though, considering I often smell bad thanks to the hogs.
OVERDRIVE: How would you define beauty?
STONE: Beauty, to me, is not just outward. I mean somebody can be extremely ugly on the outside but beautiful on the inside.
OVERDRIVE: What was the reaction from family and friends when you made the Top 10?

STONE: My family went absolutely crazy. I'm the third generation in trucking—the first girl. And my aunt has been commenting on photos with such beautiful messages, saying everybody is looking down on me and cheering for me. It gives me goose bumps.
OVERDRIVE: How do you feel about the role of women truckers?
STONE: It's a tough job and a tough life, and it is kind of hard for women to fit in, but I have noticed lately there are more and more women who are getting into it, and I really encourage more and more women to get into it. It can be hard—you're away from your kids and your home a lot, but you get to see the country and meet new people every day.
OVERDRIVE: What would you say to the non-driving public about women driving big rigs?
STONE: I'd say that women are just as capable—if not more capable—than men at driving. My father used to say women were easier on equipment than men. I'd also remind them that anything you own, a truck brought it to you.
OVERDRIVE: Can you tell us a funny story or incident that has to do with you being a woman driver?
STONE: The first time I showed up for a job I had, I walked into the office ready to turn in my paperwork, and I heard two men upset, wondering where their driver was. I went up to talk to them, and they asked, "Can we help you?" I told them I was their driver. They laughed and said they thought I was a kindergarten teacher or something.
OVERDRIVE: What do you wish you knew before you started driving?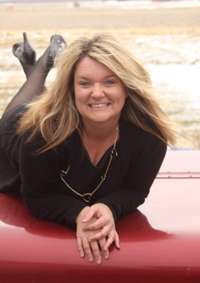 STONE: The hours are long and grueling, and it is tough to be away from home. It's also hard to keep up appearances and stay clean and professional, especially with the type of hauls I pull. As a woman, you always have to focus on being safe, too. It can be scary at night walking across a truck stop parking lot, so that's something you have to always keep in mind.
OVERDRIVE: If you could fix one thing about trucking, what would it be?
STONE: The image. Years ago, when my father and uncles were driving, they were the kings of the road. People thought they were amazing when they found out they drove trucks. But now, you hardly want to tell people you do that. I take pride in what I do, but a lot of drivers don't. I want us to be kings of the road again. We move America.
OVERDRIVE: Is there a sisterhood in trucking?
STONE: I would say so. We find each other through different social networks and other sources. When we see each other on the road, we have a little bond, and it's nice because there aren't many of us. There especially aren't many independent owner-operators who are women.
OVERDRIVE: What do you like about your beauty?
STONE: I'd say I have a big heart. I'm very giving — and my smile is contagious.