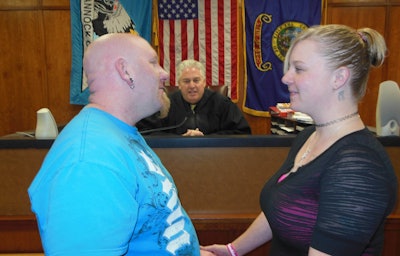 As a child, my father was constantly on the road. He was, and continues to be, a truck driver. When I met my husband, I didn't think I was strong enough to be a "trucker's wife." As the year and a half we were dating wore on, I realized that I was stronger than I thought. Travis, my husband, has shown me exactly what type of relationship every woman should have. He is very dedicated to his job. Not because he enjoys being away from home, but because he enjoys knowing that by working long, stressful, lonely days, he is providing me with a great life!
Travis is the most honest, hard working, loyal, loving, generous person I have met besides my father. He is the type of man that, no matter what type of time crunch he is on to deliver his load, will stop and help someone change a tire. Someone who will hand out water in stopped traffic to those that need it. Someone who will give his shirt off his back, no questions asked.
Sometimes, he is hard to handle, but in all reality, I wouldn't have him any other way. He'd miss out on nice things for himself to ensure that someone in need, or his family, never goes without.
He is an amazing person, and I love my trucker with all my heart and soul. And I will take the long periods of time without seeing him, the responsibility of taking on the home front, just so that when he does get home, I can snuggle up next to him at night. I have him to miss, and I would not want to miss anyone else!