Name: Ingrid Brown
Occupation: Professional Truck Driver
Years driving: 34 years, 29 OTR
What do you haul?: Reefer, Dry Freight to West Coast, Produce back to North Carolina, Solo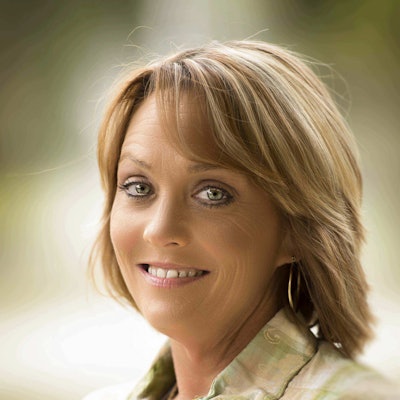 1. Why did you get into trucking?
Born into a large road construction company and being a shadow to my daddy, my brother and my granddaddy was the beginning of trucking. My mama tried to keep me frilly and she accomplished it even while I was in the dirt pile playing with my dump trucks. Hauling and operating heavy equipment from a teenager led to the passion and love I have. Once I got my feet on the road and met the people in it I knew I had to see more. I have since owned and operated trucks and trailers of my own and worked under my own authority for a period of time. I have hauled a variety of freight from my beginning in my 1979 Diamond Reo, which I still have, to flatbed, dry van, reefer, cows and hazmat. I am now a company driver for a small company at home…It's been a ride I'll never regret.
2. If you could take one person on the road with you, who would it be, and why?
I choose to pick two people to take on the road with me. Without one there would never be another.
The first that I take on the road with me is God each and every mile. To guide and protect me and those that cross my way. And to share the wonders he gave to us.
And if I had to choose one person to take on the road with me it would be someone to document my life's travels. The places I have traveled in over 29 years have changed but the wonders of them haven't. I've met every type of person imaginable and have learned about different cultures and seen things on the road nobody could or would believe. Songs about Arizona sunsets? They're real. Winters in Montana? The most beautiful I've seen. California beaches? That's the California dreaming. Something different each day. And the many shippers, receivers, mechanics, dispatchers and travel centers are an extension of my life to share. Who else to help me share the positives that trucking gives to me than someone to capture it through a lens for others to see.
3. What would you tell a young female who is considering a career in truck driving? Feel free to include information about your own experiences as a female entering the industry.
When I began in the trucking industry in 1979 I obtained a Chauffeurs License and was grand fathered into CDL in 1993 upon my renewal. The changes over many years are so large it is more of a story line than help in today's mission of entering trucking. Requirements of training to become licensed are so much more involved than they were 34 yrs ago. I choose to share experience rather than advice when doing so.
Being a member of Women In Trucking since its inception, the mission is to mentor and share the experiences with all drivers and non drivers. Teaching rules and regulations to help a driver and myself to safely do our job is an area that I stay on top of. Being completely honest and realistic to someone choosing to enter is also a way I can help. There is always a positive in every negative in life as there are both in trucking. There are even small things that I can share from my years in hopes to help with accomplishments and achievements.
4. What is your definition of a beautiful trucker?
A beautiful trucker is no different than a beautiful person. The old saying beauty is only skin deep sure did miss the true meaning. Beauty comes within the heart and a trucker has an extra special dose of it if they reach down inside and find it. The experiences and the love of trucking shine through the smile and eyes of a trucker. It can be seen and felt by those around them in the way they live and treat others.
5. Why should you be chosen as the winner of Overdrive's Most Beautiful?
Being chosen as Overdrive's Most Beautiful is a two fold honor. First by being chosen by my peers that work beside me in the trucking industry as did Jason Riessen who nominated me. Second by a panel of judges with credentials to see what being Overdrive's Most Beautiful is in me. I can use big words with deep meaning, I can ask others to speak on my behalf, but it is my actions that tells who Ingrid is. I was an Owner Operator for most of my career and even running my own authority. I went to broker school not to become a broker but to know the inner workings of brokerage and to use that tool to increase my profits in my business. I have contributed and been amongst the ladies that have paved the way in the trucking industry today and consider myself as "old school". This is an honor within itself.
Yes, my heart is in my truck "Daisy" and the job I do. But I have a HUGE heart that isn't complete unless it is giving something back for all that is given to me. I chose my work in charities to accomplish that fulfillment. Being a part of Trucker Buddy since 2004 is one of the greatest accomplishments I have ever experienced. Also in 2004, I, along with a fellow male driver, Garry Thomas, the drivers and the trucking industry, the Texas Special Olympics and GATS founded the 1st Truck Challenge of the Genders in Dallas. The first year we were blessed to present Texas Special Olympics with $11,300.00 in donations. It was wonderful as to see it accomplish goals for 3 years to follow. I have been more than honored and am humbly grateful for various awards and recognition some being; Women In Trucking Driver Advisory Committee, WIT 3 million mile safe driving award 2010, Mobile Delvac Driver of the Month May 2011, Midnight Trucking Radio 1 Million Mile award and various company safety awards. I also am a Prospect Member of Chi-Town Large cars also a Non Profit club that reach out to those in need as in hurricanes, tornados and other devastation throughout the US. We at CTLC are working with AmberCan Pediatric Cancer Foundation for our 10th Anniversary. I was honored with the Top 10 Overdrive's Most Beautiful 2013 and featured in numerous articles and a Cover Feature in All About Women Magazine September 2013. June 1, 2014 my tuck "Daisy" is featured in a magazine from Canada, The FACE, and I for being her driver. My greatest reward didn't involve a medal, plaque or award. Last year I participated in the Last Ride Home for Raymond White. Raymond was a deceased driver that had no way home to his family and along with the efforts of individuals in our industry, Randall Miller Company, Inc, Trucker Charity, Inc, and the sweet family of his, we returned Raymond home. I picked Raymond up at the mortuary in NM. Buckled him in my passengers seat and he and I finished his last ride. To California and back to Oklahoma City, 2257 miles later I relayed Raymond over to a fellow driver to deliver him safely to his family in Missouri. The honor and gratitude changed my life even more for this industry and myself forever.
But it's not about what I have done, how much I have done it, or about me. It is about WHY I have. And that's what makes me feel I am Overdrive's Most Beautiful. I have the heart and spirit and passion. I have represented myself and women driver's as well as men because my steering wheel doesn't know the difference of gender. It doesn't care. My life is only going forward and I love this industry I call family, and I feel my actions speak louder than words.
Thank each of you for your time and the honor to be considered. I thank Jason Riessen for seeing my passion in trucking and nominating me!