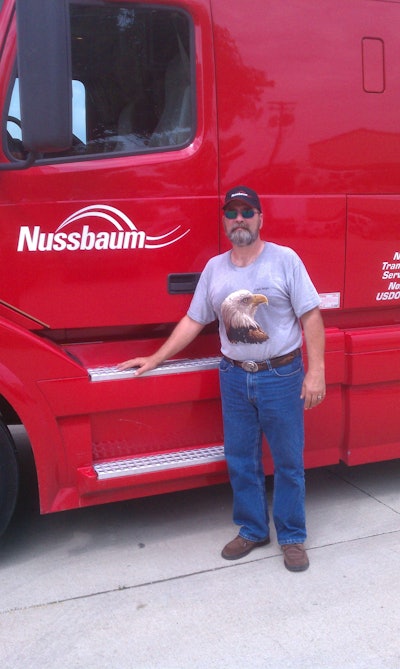 Terry Zuber of Ashville, Ohio, drives over the road for Nussbaum Transportation, hauling loads as far west as California, as far south as Texas and as far east as Florida.
Zuber and his wife, Mary, have been married for 18 years. He moved from Pennsylvania to Ohio in March 1996, met Mary on June 2, and married her on Aug. 4 that same year. They've been inseparable ever since, he says.
Zuber and Mary each had children from a previous marriage, and Zuber wanted to hold onto his job to support the family of seven. He says there's no way he could have brought in enough income while attending truck driving school, so he put it off until a few years ago after he was injured at his old job.
Mary nominated Zuber for Overdrive's iLuvMyTrucker contest, held in recognition of American Trucking Associations' National Truck Driver Appreciation Week (Sept. 14-20 this year). Zuber says he feels very pleased and tickled that she took the time to nominate him. "I knew she cared, but to do something that, that's an honor."
Mary's entry about Zuber:
Terry Zuber, company driver, Nussbaum Transportation
Nominated by Mary Zuber, wife
I love my trucker because I have been married to this incredible man for 18 years, the last three of which he has been a trucker. All our life together he talked about becoming a truck driver but being the selfless person he is he always put the needs of us and our family first. It was never possible to quit a paying job to go take the training to become a driver. Then suddenly a little over three years ago he got hurt on the job, and the company he worked for decided at "our" age it was better for them not to bring him back to work. So we decided to go for his long dream of trucking school. He finished his training early and got put on the road for that rough first year where you work for peanuts while paying for your training. There were a lot of lean days but at the the end of that year we were blessed and he was hired to drive for a great company where he has been happily driving for two years now. He loves this job and I can't imagine him ever doing anything else. It's finally his turn.