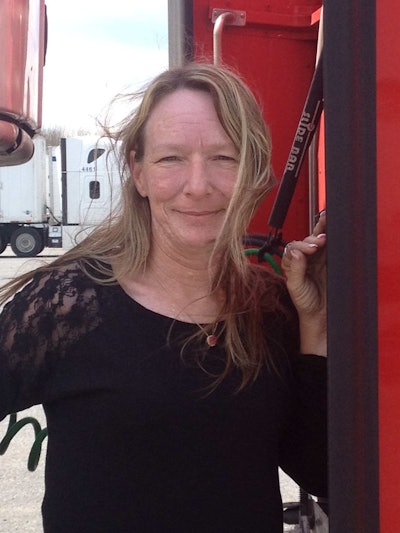 Donna McCoy
Hometown: Searcy, Arkansas
Occupation: company driver for Conley Transport
How long trucking: 17 years
Hauls: produce and general freight
"Beauty comes from inside. Sure, there are plenty of out there who will never be super models. But we are beautiful by our personalities and how we present ourselves. I love driving and tell anyone who is interested, but afraid, to go for it. If it's something you want to do, then do it."
McCoy comes from a family of truckers and says she cut her teeth on her daddy's steering wheel and has diesel running through her veins. "I not only represent myself as a person on the road, but also my company and the image of truck drivers," she says.
___
Her nomination:
Donna is following in the footsteps of her dad and has inherited the love of driving a truck. She jokes about using the steering wheel of her dad's truck as a teething ring and has diesel fuel running through her veins. Her dad instilled in her the meaning of being a professional on the road. In the 17 years Donna has been driving, she has received an award every year for being
accident-free.
Donna was the first female hired at Conley to haul frac sand for the natural gas wells. It was an uphill battle for her to prove that she could do it. With the hoses and connectors weighing as much as she does, she learned to be creative and find her own way of running the hoses. She did not want to depend on the guys to do her job. Donna and her fiancé, Bill, now drive over the road averaging 6500 miles a week. They haul anything from magazines to air fresheners from the East Coast to California and produce back to the East Coast. Donna and Bill are usually on the road six to eight weeks and then take time off to spend with family and friends. Spoiling the grandbabies, which are a blessing from God, as much as possible. Donna also loves hunting, fishing, and camping.
Donna believes in helping people and does not meet a stranger. She says even the smallest things, like a smile or a friendly hello, can make a difference in someone's day. Donna keeps a neat appearance and a good attitude while on and off the road. "Beauty is not just your appearance on the outside, but it"s also about how you treat people and your attitude," she says. "I not only represent myself as a person while on the road, I also represent my company and the image of truck drivers."
Submitted by Michelle Holt, sister
Donna McCoy, company driver
McRae, Arkansas