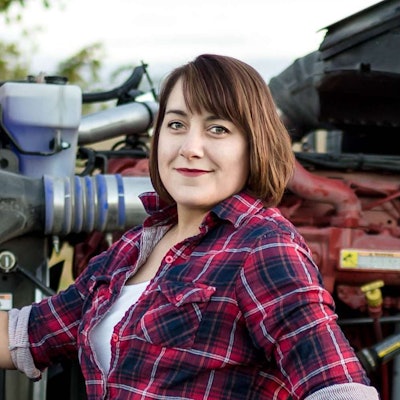 I was a stay at home mother for 8 years. When my youngest went to school, I decided to start looking for a career that would fit my personality. I am a bit of a tomboy. I was hired to run a company with one truck. I built the business to the point of needing an additional truck. Since then, I have had an extremely difficult time finding a dedicated driver. So last summer I decided to get my CDL and drive when I was between driver or for vacation times. Shortly after getting my license a driver left. I have been driving full time since the end of summer. Learning how to drive a rig, back it up, and shifting where challenges I overcame. I pull a Conestoga. Being of a shorter stature can be difficult when flat-bedding, but I keep going, and I knock down difficulties that come my way by practically thinking and not being afraid to ask for help.
I want to empower other women. I want them to see that if you try hard and work smart, you can do whatever your heart desires. I also want to show my two sons that regardless of your gender, you can be and do whatever you want.
I am following in my grandpa's footsteps. He was also a flat bed operator. I know every day I drive, he is with me in spirit. This keeps me going mile after mile.