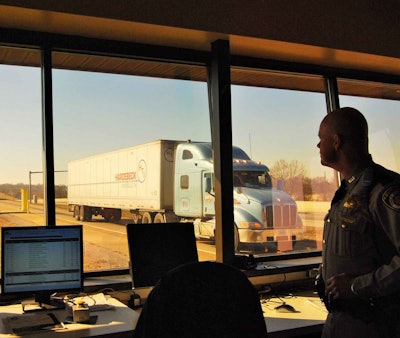 The Federal Motor Carrier Safety Administration earlier this month denied a petition made by North American truck inspectors asking the agency to rescind the 30-minute break required by current hours of service regulations.
The 30-minute rest break requirement was instituted July 1, 2013. The Commercial Vehicle Safety Alliance filed a petition last year asking FMCSA to rescind the rule, saying it was difficult to enforce, allows greater opportunity for falsified duty logs and contributes little to on-highway safety. CVSA represents truck and bus inspectors in North America, including national, state and local field inspectors.
FMCSA, however, disagrees with CVSA's assertions. In a letter sent to CVSA Aug. 8, FMCSA defended the safety benefits of the 30-minute break requirement. It also noted the August 2013 ruling by a U.S. Appeals Court that upheld the requirement for long-haul operators.
"The agency stand by its 2011 preamble and finds no merit in CVSA's challenge to the value of the 30-minute rest break requirement," FMCSA writes. "The fact that [CVSA] believes the provision may be difficult to enforce does not negate its safety benefit. This is especially true given the lack of data to support the contention that the rule is difficult to enforce."
Truck operators are required to take a 30-minute break within their first eight hours on duty each day. FMCSA says data gleaned in 2013, 2014 and 2015 relative to the 30-minute break support the agency's decision to uphold the break requirement.
"Given the number of violations cited during roadside inspections, there is no reason to believe that enforcement officials are having any difficulty documenting these violations," FMCSA writes.