When the producers of A&E network's "Shipping Wars" went shopping for colorful characters with strong personalities, Jennifer Brennan was a shoe-in.
"They were looking for someone who wouldn't take crap from anyone," Brennan says. The petite, 30-year-old goods transporter attributes her always-stand-your-ground attitude to her Southern roots. "I was born in Texas and spent a lot of my summers with family in Alabama. I'm a type A personality. I believe what is right is right and what is wrong is wrong," she says.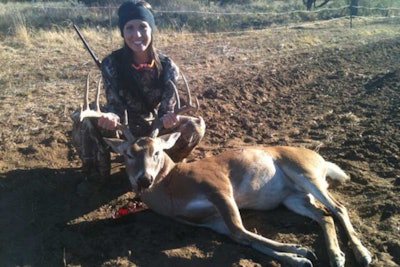 We caught up with Brennan in June as she was filming the second season of the popular reality show, which features six goods transporters competing for loads. Using the uShip website (an eBay-like auction only with customers looking for someone to deliver their items to another location), the stars of the show try to low-ball each other and still make the most profit per episode.
Brennan, who lives in Austin, Texas, often takes a special interest in transporting animals. She was raised around farming and livestock and doesn't mind getting her hands dirty to get the job done. "It's just the way I grew up. I was a tomboy, playing in creeks and riding horses and things like that," Brennan says. "And I really love anything that has to do with animals."
Only one of the stars of the show, Marc Springer, regularly drives an 18-wheeler. The rest of the contestants rely on dualies and one-ton pickups with various pull-behinds trailers to compete for loads. Brennan has a gooseneck and an enclosed bumper-pull trailer.
Brennan says since the show only focuses on certain loads, the viewers don't always see the final profits for a set period for each star. "On a good week, I can [gross] $3,000 to $4,000 and bring home $2,500 to $3,000," she says. "My business is pretty good. Besides the uShip loads, I have picked up some business by word of mouth."
Overdrive: What's your favorite load you have hauled on the show?
Brennan: The pig. I miss him still to this day. I named him Wilbur and he was with me two weeks. I got pretty attached.
Overdrive: What's your favorite hobby?
Brennan: I have two: working out and hunting. I rifle hunt and bow hunt. I hunt hog, dove, deer and turkey. My fiancé's family's ranch is in Mason, Texas. We are a part of Willow Creek wildlife management, meaning we manage the population of the animals on the property. We do not shoot [just] to kill. We eat everything we shoot. We process all the meat ourselves.
Overdrive: How hard was it to get used to TV cameras following you around?
Brennan: Very hard. I would get so frustrated because they are in your face and will not turn cameras off when you're having a problem. When I cry it's because I'm frustrated. But now I don't even know they are there. They know if I am moving an animal they better move or get run over.
Overdrive: What's something else that most people don't know about you?
Brennan: I am a huge college football fan. I have watched 16 hours of football on a Saturday alone. Another funny fact about me is I only take baths. I wash my hair in the bathtub. I don't know why. My sister is the same way. When I walk into a hotel and they only have a shower, I hate it. I know, strange, but I have always been that way.