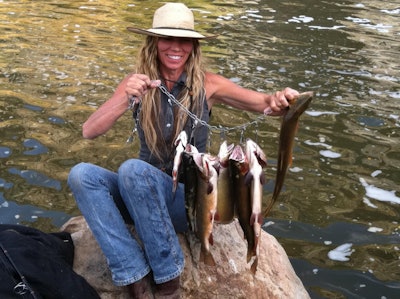 With only two more days left to submit your photo and story to Overdrive's Most Beautiful contest, applications continue to flow in. Nearly 70 beautiful women have either submitted their photos or been submitted by someone who admirers them. I have to say; I am the biggest fan of every single one of these fiercely independent ladies! It's exciting (although not surprising) that a woman tough enough to handle a semi truck is also willing to step up and show how cool they really are. The goal is to attract positive publicity outside the industry. Think how many non-trucking folks will be amazed to find out that women even drive trucks in the first place! Then, add the fabulous stories and kick-ass gorgeous photos and you have all the elements of an irresistible story.
I'm sure there are some within the industry who are a little wary of photos pairing women and trucks. Back in the day, our own Overdrive was launched with girls draped over the hood of big rigs. But that was then and now we are displaying beautiful REAL women, (versus beautiful models) in front of custom rigs. I can't resist giving you a sneak preview into some of the applicant's stories. I took out their names so they don't get an early plug. But seriously, it was hard to narrow it down to a few. Hurry and send me yours today!
*I am an all-American truck-driving gal, which would make me "way-cool" (along with all the other truck-drivin gals on the planet!) who thinks custom rigs ARE the "coolest cats" around! I would be honored to be chosen to stand along side of one!!
*I have been trucking (grain hauler, by trade) since '92 and hope to own a custom rig (or 2!) of my own one day!I love the freedom of the open road (oh the places I have been–a few by mistake!), splitting gears and tall miles!!
*I am a sucker for a decked-out rig and LED's!! Oh, don't forget the 8″ pipes! It is true, trucking can be a hard way of life…but it is the perfect life for me!
*Been driving for over 10 years, most of those years have been as an owner operator for one of the biggest companies in the industry. When i start up my rig the cab becomes an office and i always dress professionally and classy to represent my company and to show people that a lady driver can operate a big rig and do all the job related duties in jeans as well as in as in a skirt and a pair of high heeled shoes.
*I am a mother, a grandmother and most of all, I am a truck driver.
*After serving in the Army she drove with her father and now owns her own truck and has her own authority hauling livestock, mostly pigs. She's a member of OOIDA and has been involved in Tucker Charity including putting together the Outlaws Calendar for them to sell to raise money.
This submission was made by a friend of the trucker. Sniff, I have to admit that I got a little teary!
*You're beautiful because you take risks. You substituted "who cares" for "what if" and stopped talking into your beer about how you were going to do it and actually did it. You're not afraid to take a crazy stupid chance on your crazy stupid dreams you live life to it's fullest. You're an inspiration and you're real.
You're beautiful because you just don't give a damn. You don't need everyone to like you, agree with you or approve of you to feel good about yourself. You know that "good enough" is subjective, and that more often than not the subject doesn't really matter anyway. I know you'll never wake up suddenly 45 and nowhere, half your time and potential wasted on following someone else's idiot advice.
You're beautiful because you take pride in ironically showcasing that you're not. You laugh at the silly standards of conventional beauty and elevate armpit hair, blue-veined pallor and Chucks held together by luck alone to a whole new level. You will never be the one to drop six grand on an anti-aging cream made from red algae and gorilla spit because when you're eighty, you will be proud of the history that gave you those wrinkles. The thing is, you are absolutely stunning.
You're beautiful because you're brave. You know there's more to life than measuring how long you have — you came face to face with your own mortality and turned to look the other way.
You're beautiful because you believe in things. Even when it's easier to be cynical, skeptical, hyper-rational, you keep believing because you know believing in things is what makes them real. You're beautiful for that reason, because you can do something lots of people can't. You're beautiful and you shouldn't wait for someone else to tell you. You already know it.You're the most beautiful lady on this planet to me, trucker or not. You're just you.
*I think my wife should be considered for Overdrive's Most Beautiful because she has been in trucking for over 20 years and not only can she "truck" with the best of them, she remains a dynamic, beautiful and fun loving person. When we are on the road, not only is she driving but keeps us fed with healthy meals she prepares in the truck, and keeps up with all the paperwork and maintains all the bills from the house. When we do get home, she tirelessly entertains my family,
It's hard to believe that after doing all of this, when she "gussies" herself up, she can still knock your socks off!! I am honored to be able to nominate my beautiful wife ! Thank you so much for your consideration.