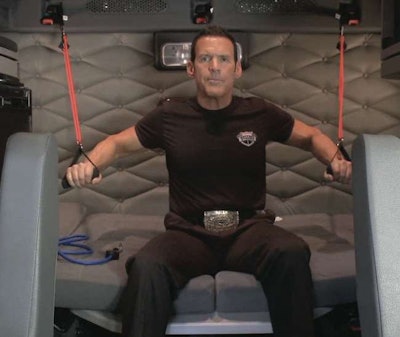 Eagan, Minn.-based Transport America recently installed the Freightliner In-Cab (FIT) System in 200 of its trucks to support its Exercise Wellness Blitz, held during National Truck Driver Appreciation Week. Developed by Freightliner in collaboration with Rolling Strong, the FIT System is the first-ever OEM-designed and -integrated in-cab exercise and flexibility system.
The system features a triple-grip handle, which enables users to interchange three bands to change resistance levels. It utilizes existing seat tether and bunk restraint mounting points for installing custom brackets, which makes the system easy to attach and use.
The FIT System is one of several initiatives from Freightliner that support drivers maintaining a healthy lifestyle while on the road. Team Run Smart, which is designed for drivers, features a "Health Smart" program, which provides exercise and nutrition tips through blogs, videos and forums.
Truck drivers also have access to health, wellness and nutrition information, as well as a personal trainer, via the FIT Channel on www.RollingStrong.com.