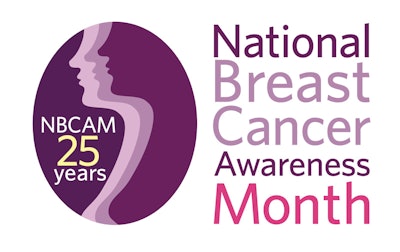 October was Breast Cancer Awareness Month, and while every year there's plenty of information distributed about female breast cancer amid the pink banners and other materials, there's little mention of the incidence of breast cancer in men. This is probably because few people associate the two. It only makes sense to think "female" when you hear the word breast. Most men don't think about, or talk about, their breasts, much less examine them on a regular basis.
The question is often posed as to why men have breasts at all, and if their breast tissue is actually the same as that in females.
According to Meredith F. Small, an anthropologist at Cornell University, the human fetal blueprint is initially female. The developmental secret here is that breasts and nipples are already in place before testosterone shows its hand and starts shaping cells into male organs. In other words, men have breasts and nipples because they already had them before they became male, and since there's no real caloric cost to men having boobs, evolution has no impetus to erase them.

The American Cancer Society website statistics say breast cancer is about 100 times less likely to present in men than women. The lifetime risk for a man is 1 in 1,000 and less than 500 are estimated to be fatal cases, but there are some very obvious risk factors that exponentially increase your odds of getting it.
It's important to remember, like women, many men have one or more risk factors and never develop the disease. It's not completely understood why men are affected, but research indicates many of these factors are related to sex-specific hormone levels in the body. Testicular conditions, estrogen treatment, and Klinefelter Syndrome all increase the risk of male breast cancer by reducing the levels of testosterone.
Other factors, such as a family history of breast cancer (male or female) indicate an inherited gene mutation that increases risk. Aging and obesity, also two conditions that cause lower testosterone levels, were also cited as common qualities.
As with any life threatening condition, prevention is key. Early detection of male breast cancer has been a problem because men tend to ignore lumps and sore spots. Lack of breast tissue makes it easier for them to detect abnormalities, however that same lack of breast tissue makes it easier for the cancer to spread to underlying muscle and lymph nodes.
Lack of awareness is one contributing factor to late detection. A number of men don't think they can get breast cancer, and because of the rarity, there is unlikely to be any benefit in screening them in the general population for it with preventive mammograms or other tests.
Simply put, your insurance company is probably not going to pay for a yearly mammogram unless you have distinct risk factors, so it's up to you to police your own breasts. Maintaining a healthy weight, eating right and not smoking, combined with having any sore spots or lumps checked out immediately, are all habits that will contribute to early detection.