A newly hired driver shows up to orientation on a Wednesday, takes a fleet's truck out on a Thursday, delivers a load, and then bobtails to his home state of Maryland on Friday. The driver then becomes unresponsive, and the next time the fleet that hired him, AD Transport, sees their 2020 Kenworth T680, it's stripped to the bone with only rear tires on it so a tow truck to can dump it on the streets of Baltimore.
That's what Canton, Michigan-based AD Transport alleges happened after the fleet hired Michael Jamal Walker of Baltimore, Maryland.
CCJ & Overdrive contacted Walker for his response to the allegation, but did not hear back.
When the fleet realized the truck may have been abandoned, AD sent another driver out to recover it at its last known location in Baltimore, but no luck. "So Monday goes by, Tuesday goes by, and we get a call from a company out in Omaha, Nebraska," said AD Transport President Gary Percy. "They say, 'Hey AD, what's going on with this driver [Walker]?'"
That fleet, John Christner Trucking, based out of Oklahoma but with facilities in Omaha, alleged Walker had pulled the exact same stunt with one of their trucks.
"This guy, that's his M.O., he hires on with each carrier and takes off with the truck," Percy said. "He had already predetermined he was going to take our truck."
John Christner Trucking, as Percy learned, eventually did recover their truck, thanks to a GPS unit in the sleeper that the thief hadn't thought to disconnect, or wasn't aware of. Percy and AD, too, would eventually find their 2020 Kenworth, but only after the motor, transmission, and just about anything else of resale value came out of it.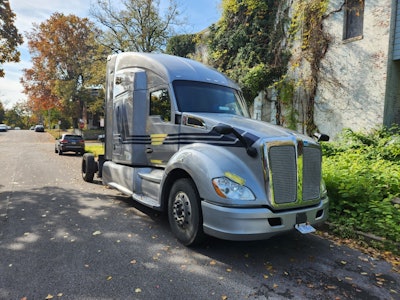 Jerry Welsch, AD's head of security, estimated that the truck was probably worth $150,000 whole. Now it's probably worth less than half that, minus the powertrain -- and one very valuable tank of diesel.
Another day passes, and another call -- this one incoming to AD Transport from a fleet in Indiana looking for an employment reference, saying they were going to hire Walker. Gary Percy, as you might expect, advised them not to under any circumstances.
AD Transport filed a police report with local authorities in Michigan, also consulting the FBI and Attorney General's office in their home state, and got in touch with authorities in Baltimore, all to no avail.
"We filed a criminal case with the Canton, Michigan, police department, who told us then [they] would have to go through the stages and process of doing the warrants," Welsch said. "They told me it's going to take six to seven months to get a warrant." From there, unless Walker gets arrested in Michigan, AD would have to hope that he's apprehended elsewhere and extradited to Michigan, something the detective in Canton said would be "nearly impossible."
Despite hiring insurance adjusters and tow truck companies to search Baltimore and recover the truck, ultimately the investigation turned up little more than "dead ends," Welsch said. Even with Walker's address, he couldn't get local authorities to pay a visit.
"If someone would pick him up and a detective asked him, 'where's the truck,' I'm sure he'd fess up," Welsch said in a conversation earlier this week, before the truck's remains were finally recovered Wednesday. "Based on what he's done to the other truck, I think he's just a lowball player."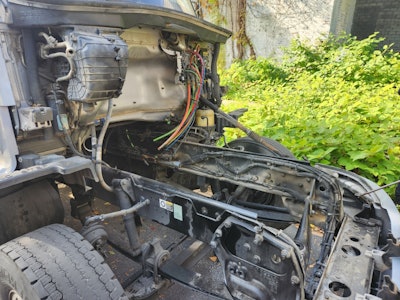 Even with two trucks taken from two different states, Welsch said his experience with the FBI was "just a lot of back and forth," and that the agency didn't escalate the situation or show any urgency around getting Walker picked up.
Because in these cases fleets are handing the keys off to Walker, it's not technically a matter of grand theft auto when the trucks never return. Instead, "it's a loss we're going to have to write a check for," said Percy. Without any other recourse than hoping for some miracle of justice that no law enforcement body seemed to anticipate, AD Transport went to the press.
"I just want this stopped for this industry," said Percy. "We have enough problems now trying to keep people, and it's sad what's happening. ... We can't buy trucks, these guys are stealing stuff and selling stuff, and regardless of how it turns out for me, the reason I reached out was to stop these guys from impacting our industry."
Representatives from John Christner Trucking sent CCJ & Overdrive a recording of a phone call, allegedly with Walker, where the voice on the phone appears to berate a fleet manager and essentially admit to the crime. "I got brains enough to get a truck off your lot, and y'all will never see that truck again. Don't play with me, I'm the wrong [expletive] to play with," says the voice on the recording, the man noting the dispatcher wasn't "acting like a real man" because he was trying to get the truck back.
For now, both fleets are out of a truck and there seems to be little working to stop such an operator from sitting in on another fleet's orientation on Monday and disappearing on Tuesday. Welsch said AD Transport will now run a criminal background check on new hires. AD employs Lytx cameras, a GPS and an ELD device that all track location, but are all "easy to cut," he said. Only the ECM on the truck continued to ping its location, but "once he cuts power to the truck, Paccar can only tell you where it was last detected."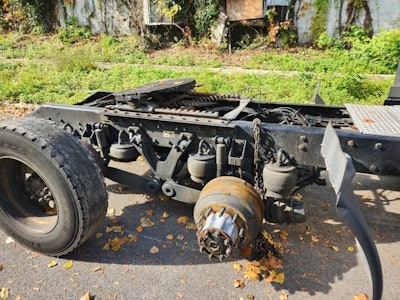 "If somebody really wants to do it, they'll do it," Welsch said of this kind of bold theft.
Overdrive reached out to Walker, the detective in Canton, and the FBI for comment on this story. We'll update with any further comment.