Robbie Bachman, co-founder and drummer for Canadian rock band Bachman-Turner Overdrive, died earlier this month at the age of 69. His brother, Randy, also a co-founder of the band along with Fred Turner and Tim Bachman, confirmed the news on Twitter on Jan. 12.
If you're wondering just why you're reading about Bachman in a trucking magazine, you need only look to the band's name. The "Overdrive" at the end of BTO was in fact decided upon by Randy Bachman and Fred Turner when they made a stop at a truck stop and saw a copy of Overdrive for sale. The story of the band's name is told in a feature in the August 1975 issue of Overdrive:
In 1973, the then unknown band stopped at the Colonial Steak House at Brown Brothers Truck Stop, a half mile south of the Ambassador Bridge in Windsor, Ontario, on Fred Turner's cliché theory that "If you see six or seven semis parked there, then it's a good place to eat." They were hungry, tired, battling with a cranky bus and in need of a big meal.




Spotting a copy of Overdrive for sale, they read it, and immediately decided that this was the punchy-sound, the authoritative last name to add to Bachman-Turner. Bachman-Turner Overdrive then released their first album under the new handle, complete with a silver-metallic B-T-O logo encompassing the just-acquired name. Encircled by a stylized design of a gear, they were set with the right "package" to go with their music.




As Fred Turner likes to add, "We wanted a heavy, metallic, industrial image" and "we wanted something that would click." Overdrive provided just the right sound and image that the group was seeking. And they haven't looked back.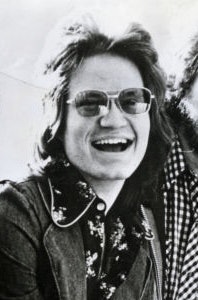 Robbie Bachman -- "twinkling little Robbie Bachman, youngest member of the group and the drummer kid brother of big Randy Bachman" -- teased the Overdrive reporter at the time, saying, "Hey! That's pretty neat, using our name on your magazine."
The band is known for a number of hits, including "Let It Ride," "You Ain't Seen Nothing Yet," "Takin' Care of Business," "Hey You," and "Roll on Down the Highway".
In 2014, Bachman-Turner Overdrive was inducted into the Canadian Music Hall of Fame.
[Related: Overdrive: The first September 1961 issue in full]