Handle maintenance with a savings account
Owner-operators who are skipping small preventive maintenance items are finding out later it's costing them much more money to get the problem corrected.
When times are tough, it can become a tough decision whether to fix a small item or to let it go till you can afford it. In other cases, lack of preventive maintenance is simply due to not knowing what maintenance tasks should be performed. Be assured, however, that fixing it now is always less expensive than fixing it later.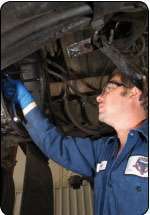 One way to get ahead of the game is by starting a maintenance fund. Open a savings account and deposit a set amount for every mile the truck runs.
If your truck has less than 500,000 miles, put 6 cents per mile into your maintenance fund. If your truck has 500,000 to a million miles, set aside 10 cents per mile. Once your truck passes a million miles, go to 12 cents. Keep good records of mileage and make the savings deposit every week without fail.
If you are contracted to a carrier, check to see if it offers a maintenance fund. You might be able to put this strategy on autopilot by drafting money from your settlement every week.
For example, if your truck has less than 500,000 miles, your carrier could set your account so that weekly miles would be multiplied by $.06. If you run 2,350 miles one week, you'd automatically get $141 (2,350 times $.06) set aside. If you think you can't afford $141, remember this amount covers all your maintenance. When the next unforeseen maintenance need arises, how much better to pay for it with money in hand than with credit that will require interest payments for untold months.
The per-mile math is easy, but the discipline is hard. I can't stress enough how important it is to do this weekly. You'll find you won't be forced to skip preventive maintenance. For that reason, you'll also find your overall maintenance cost per mile will be lower, which means more money in your pocket over time.
Next month we'll explore some of those preventive maintenance items you should be working on, and help you work out a return on investment on each one. n
MILES SAVING
Less than 500,000 6 cpm
500,000 to 1 million 10 cpm
More than 1 million 12 cpm
A disciplined approach to feeding a maintenance savings account on a cents-per-mile basis will keep you on top of maintenance needs.
Build a local team
One way to control maintenance costs is to find good local shops and build relationships with them. I've done so with a general maintenance shop, a tire shop, an engine shop, an alignment shop and an A/C shop. Dealing with professionals who specialize in one maintenance item is key to holding costs down and keeping quality up.
Creating the relationship is crucial. Take time to sit down with the service manager or owner and let them know your goals and plans. Ask their advice about maintenance schedules.
Do things like occasionally taking lunch to the mechanics. A case of sodas and a couple of pizzas go a long way toward building a relationship with the people who are working on your truck. Also compliment the work once in a while instead of complaining that everything is too expensive.
I've found that by fostering these relationships, I have a resource I can use even when my trucks break down on the road. If one ends up in an unfamiliar shop, I ask for a written estimate and an explanation of the work to be performed, and fax it to my local shop for advice.
Another great way to build a relationship is through referrals. If you were happy with the shop's work, spread the word around to your friends.