Know operation before spec'ing
We've been talking about building your dream operation. The final step is buying your equipment. It's the most fun part, but it's also the most expensive, and one that owner-operators often mess up.
Only after you've decided on your preferred operation and located a carrier or set of shippers/brokers to use should you start the buying process. To buy a tractor without an idea of its application is putting the cart before the horse (or, we might say, the trailer before the tractor).
You might have decided to run an operation that is local or regional rather than long-haul. Maybe you want to be in an expedited operation as a team, or a specialized heavy hauler with a drop-deck trailer. Those are very different operations with very different equipment requirements.
For example, my operation entails pulling double 28-foot package trailers on a dedicated run, 540 miles per day in Florida and Georgia. The tractor is back in the domiciled terminal every day. I operate single-axle daycabs with full aerodynamic treatments. They are very light, and the No. 1 priority is fuel economy and low maintenance cost. Horsepower is set between 350 and 430, torque is set accordingly, with 10- or 12-speed automated transmissions.
Having these very precise specs from the front bumper to the mudflaps really pays off on the bottom line. Take tires, for example. The tractor has only four tires because the drive axle uses wide-base singles. Compare that to what most contractors on the same run are using: three-axle tractors with dual drive tires. That means they have 10 tires to buy and maintain instead of four. The average fuel mileage for trucks in this lane is 5 mpg to 6 mpg. My trucks are getting close to 8 mpg. When you compare overall operating costs – fuel, maintenance, tires, etc. – the properly spec'd truck is saving $12,000-$15,000 yearly.
Using equipment designed for the job is the most cost-effective approach to an owner-operator business. Take the time to do it right. You will be rewarded many times over for years to come. n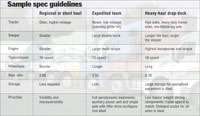 Kevin Rutherford is an accountant, small-fleet owner and the host of "Trucking Business & Beyond," which airs on Sirius XM Radio's Road Dog Trucking Radio. Contact Rutherford through his website, www.LetsTruck.com.