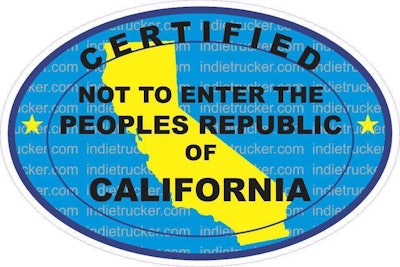 The court overseeing the Owner-Operator Independent Drivers Association's lawsuit against California and its stringent emissions regulations heard oral arguments last week in the case, and, per one report, OOIDA faced tough questions about its suit and the evidence used to support it.
Court documents show the Oct. 22 proceedings occurred, but offer no details on what was said. B2B legal journal Law 360, however, reports a three-judge panel "grilled" the owner-operator advocacy group and its complaint against California's regulations. (Heads up — Law 360 requires a subscription to read its stories.)
The judges questioned both the jurisdiction of OOIDA's suit and the court precedents OOIDA's attorneys are using to backup their claims.
OOIDA's suit, however, continues its run in court despite being dismissed in court twice in the previous 12 months.
OOIDA originally brought the suit in December 2013, claiming the California Air Resources Board's Truck & Bus regulation violates the U.S. Constitution's Commerce Clause. The suit was dismissed in November 2014, but OOIDA was able to revive the case shortly after when one of the owner-operator plaintiffs in the case received a citation for not complying with the state's emissions regulations.
Then again this July, a federal judge dismissed all of OOIDA's lawsuit, save for the new complaint made by owner-operator Jack Cody. The case was then transferred to the Ninth Circuit Court of Appeals — the country's second highest circuit, superceded only by the U.S. Supreme Court.
OOIDA maintains California's emissions rules put the cost of cleaning up the state's air on truckers, despite the fact that just 30 percent of emissions in the state come from trucks, per OOIDA's complaint. The group also contends the rule violates the Commerce Clause by placing unfairly burdensome costs on out-of-state owner-operators and fleets.
Both of the dismissals, however, have been attributed more to procedural issues — mostly the lawsuit's origins — rather than the merits of OOIDA's suit.