If only our businesses would unfurl in reality like they do in our minds.
Wishing or imagining I was successful in the past did not work out so well. When I owned a farm and a feed mill and was trying to manage the people, production, finance, marketing and what ended up feeling like the weight of the world on my shoulders, I failed. But I also learned the most valuable lessons I needed about living a fulfilling life. More on that later.
As we head into a new year, it's an excellent time to examine our expectations and make sure we're doing everything possible to make our dreams reality. One of the hardest lessons I ever learned about running a business: I can't be good at everything.
Even more important: there are always vital tasks required that I just dislike doing. You know what happens then. Those detested chores get put on the back burner while we do what we enjoy.
Too often, we avoid what's screaming for attention. We complain about it and blame government regulations, contractual obligations, the IRS, and sometimes people (like our spouses) who don't have the faintest connection to the task we so want to sidestep. Do all of it long enough, though, and it will often come back to bite us with late charges, out-of-compliance penalties, a huge breakdown that could have been just a minor maintenance task two months earlier.
It can be very stressful and difficult to manage a business from behind, ultimately. One thing I remember from my defunct farm is my wife at the height of its difficulties asking me, "Why are you sabotaging yourself?" Basically, she wanted to know why I wasn't doing what I knew I needed to do to stay successful.
At the time, I believed hard work equaled success. If I worked hard enough, everything would be OK. Not so if no sweat equity is devoted to those necessary things you're predisposed to give a lower priority. There were many more than I wanted to admit. I also neglected the most important things in my life: my wife, family and faith.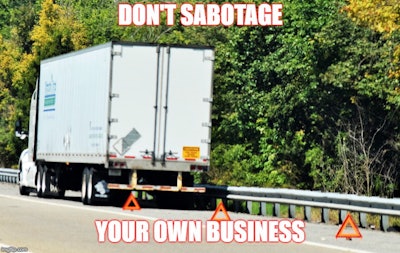 In trucking, an owner-operator's pursuit of miles can distract from the longer list of business and personal responsibilities. Having a to-do list for January 1 to tax day in April in this new year might help you spread out the necessities, reduce stress, and avoid sabotaging yourself. I began brainstorming my own list — there are more tasks than I first thought.
Accounts payable and receivable current?
Profit-and-loss statements current?
Quarterly taxes current?
Who is doing my taxes, and what are their due dates for information?
Retirement contributions — IRA, 401, SEP?
2019 permits and plates?
Medical certification?
Equipment inspections current or scheduled?
Preventive maintenance current?
Business insurance current?
Medical and disability insurances?
Reevaluate the value of my equipment to reduce physical-damage insurance cost?
When applicable, Sub-S, or LLC, corporate annual meeting minutes current?
Balance sheet or current financial statement?
Check credit score?
Develop a 2019 budget for my business and personal spending?
Have a plan to reduce debt?
Plan for personal time?
Download my e-logs?
… It could well go on.
The good news is we can learn to set priorities and deal with dreaded or unpleasant tasks, and get help:
Take full advantage of company staff if you are a contractor.
Hire an accountant and/or tax preparer if numbers aren't your thing.
A financial adviser, a factoring service and/or even some brokers can help keep your financial health on track, just a like a good relationship with a doctor or other healthcare provider can keep you passing your DOT physical.
While some owner-operators work on their own trucks with success, others need a trustworthy equipment maintenance partner to ensure breakdowns don't interfere with profitability.
Ask yourself, ultimately, who's keeping you accountable? If self-motivation doesn't work for the mundane tasks, consider a partner or a mentor who demonstrates strength and leadership in your areas of need.