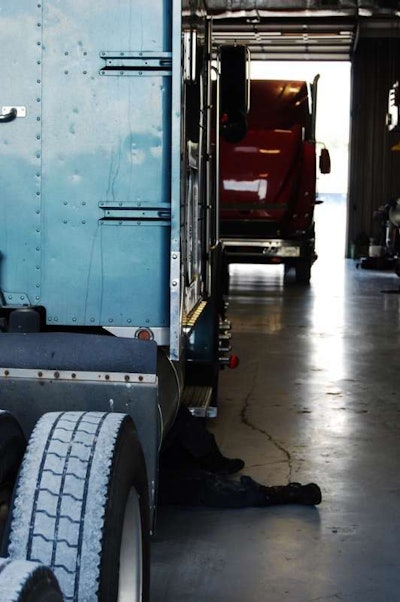 I'm sitting in the driver's lounge at the Freightliner dealership in Kalamazoo awaiting a repair on my 2000 Century. Increasingly rough roads, with potholes like a deep abyss in a sci-fi flick, have taken their toll on "Old Bessie."
I experienced this particular bone-jarring hit late last night driving through a Michigan snowstorm. I was on the phone with my friend, owner-operator Bill Ater, and he instantly asked, "Are you OK?" I let him know I was still safe, on the road without any problems.
The next morning during my post-trip, however, I discovered one of the left steer axle leaf springs had snapped clean in two. I immediately considered limping the truck back home to Illinois to my usual repair shop, where I felt comfortable, but I decided to call Kalamazoo Freightliner instead. If something else broke, after all, I could lose control of the truck. Getting stopped for an inspection would have been a nightmare. For the sake of safety, I would have to trust an unfamiliar shop.
Once at the dealer's driver's lounge, my thoughts turned to the agent whose freight I was scheduled to pick up. I wanted to make sure they didn't want to re-assign it. We all have had concerns about inaccurate estimated time to service completion in truck shops. Before choosing this shop, I used the internet to check my options for local repair, as well as their reviews. Taking time to use such available resources is key to a good decision, especially in times of distress like this.
The agent and I decided to trust what the truck repair shop was telling me about the job's timeline. As it turned out, the dealership's service manager, Justin DeWeerd, was quite clear, and accurate, about what they could do to fix the truck, including the timeline. DeWeerd also spelled out a series of considerations for truckers dealing with a repair shop that might make things go more smoothly, saving time and money for both entities:
Be as descriptive as possible about the history of the problem. "Answer all of our questions completely and add any details about the history of the problem. We want the truck fixed as fast as you do. Many times, we end up down the wrong path trying to find the problem and it is during the second or third phone call with the driver that the 'secret' key piece of info comes out that cracks the case open."
Be upfront with all repairs that you are looking for. "We really appreciate the customers that come in with a list of repairs needed jotted down on a notepad, no matter how long or short. When you start adding repairs once you're in the bay, this affects everyone involved, including the truck owner waiting behind you."
Know your VIN Number and engine. "Have your truck and personal info available. In the service department, and especially in the parts department, they are going to ask you questions. We suggest info cards that can be kept in your wallet. Knowing the history of the truck helps, also. If it has had an engine replaced, let us know. Sometimes, we have had an engine that has been replaced with a different manufacturer's, and when parts are looked up under the VIN, it doesn't end well." I just witnessed this with a newer truck owner, and it was a very expensive mistake, indeed.
Find the right service provider, especially if you have a warranty or are looking for a specific repair. That could involve having your equipment towed. We need the shop that meets our expectations. Don't assume things, keeping in mind that service managers and technicians are not mind readers.
As drivers, we need to forward all maintenance documentation to our equipment records system, however they're set up. This is a necessity if you're ever audited by your leasing company, your customer or the Federal Motor Carrier Safety Administration. By completing these tasks at the point of the repair, you can go forward with business as usual — ultimately, safer.
This has been the kind of day that can remind an owner-operator that safe and skillful driving is just one of many tasks successful owners must develop. The ability to shift full attention to prioritizing actions when the unexpected event blows up the day's plan is vital to staying safe and profitable. Don't let anxiety and adrenaline push you to a bad decision. More important: Your safety, and the safety of those you drive around, is very much at stake.