How long can a truck driver or owner afford to gamble on the future without health insurance? If you needed evidence that plenty do just that, just take a look around -- every week seems to yield a new request from an individual looking to defray insurmountable medical costs. Truck driver-centered philanthropic organizations, meanwhile, devote much time and energy to securing donations for the same purpose. I don't intend to suggest these charities don't deserve our support, or to even question the role these play in providing stopgap assistance. That role's important, no doubt.
Yet consider that not having health insurance is, by some estimates, among the top three reasons truck owners fail. As we grow older, of course, risk of catastrophic outcomes increases.
Last week, I detailed Medicare options for those 65 and older. If you're under 65, this year's open enrollment period for plans available through the Affordable Care Act exchanges starts tomorrow, November 1, and ends January 15. You are likely seeing notices and hearing this topic discussed on the radio, along with ads encouraging people who need this coverage to act.
I know all too well that the daily grind of the trucking business, not to mention driving itself, leaves many owners struggling with some of life's realities outside the cab. Yet in small business, my experience has been that almost everything we do circles back to our personal lives. Health is paramount. As I write this, I personally know a half-dozen truck owners who have been recently hospitalized without warning with life-threatening diagnoses. Some will never be able to return to driving.
[Related: Health insurance savings possible for many more owner-operators after legislation]
Consider insurance options for effective prevention of health-emergency-caused bankruptcy
If you're like many owner-operators, in a situation where health insurance is not available through your own direct employment, through a spouse's employer's policy, or an association membership, the federal Affordable Care Act exchange at HealthCare.gov is a fine place to start. Though 17 states (plus the District of Columbia) now operate their own exchanges for in-state residents, starting at the federal site and following the step-by-step links will guide you through the options and get you ultimately to the right place.
Here's a taste of what you'll need to get started there:
Information about your household, who lives there, etc.
Home/mailing addresses and other information (including Social Security numbers) for everyone applying for coverage
Information about the professional helping you apply, if any. These may include so-called "navigators" and certified application counselors, in-person-assistance personnel, and insurance agents and brokers.
Immigration document information -- this applies to lawfully present immigrants
Information on how you'll file your taxes.
Employer and income information for everyone in the household. To estimate potential savings through subsidies, the exchange system counts all these as income: Wages and salaries, as reported on a W-2 form and pay stubs, as well as tips, and net income from any self-employment or business.
Your best estimate of household income. Your application for insurance in the exchanges may ask you to estimate what your household's income will be in the year you're applying for coverage. If you're not sure, it's OK to make your best estimate. But know that what you estimate does help determine your monthly premiums. Purposefully lowballing your income will only lead to a potentially higher payment when you file the following year's taxes. I encourage you to discuss with your tax preparer now whether you're eligible for the subsidies that offset premium expenses, and how to avoid a big surprise when you file your next year's income taxes. Find more info about income estimation via the HealthCare.gov site at this link.
Current health coverage information, such as it may be
Health Reimbursement Arrangement (HRA) notice -- this only applies if anyone in your household is offered an HRA through their employer
The owners I've talked to who use the exchanges for insurance tend to purchase plans with fairly high deductibles. Higher deductibles generally help reduce the monthly premium expense. Premiums vary for such plans, as do out-of-pocket costs (those deductibles, coinsurance and more) when getting health care. The out-of-pocket annual cost advertised ranges from $1,400 to $7,050 or more annually for an individual plan (family ranges are about twice that). Follow this link to learn more about these plans.
Often enough, a health savings account (HSA) can function as a tax-free set-aside for medical expenses, including those incurred while meeting those high deductibles. See IRS Publication 502 for more information on what medical expenses qualify for tax-free treatment.
By using pre-tax dollars in an HSA to pay for deductibles, copayments, coinsurance, and other qualified expenses (including some dental, drug, and vision expenses), you can reduce overall health care costs. You can contribute to an HSA only if you have an HSA-eligible high-deductible plan.
In conversations I have listened to multiple owners share their experiences dealing with health care both with and without insurance coverage. A big thank-you to the following three owner-operators, all kind enough to share personal hardships and experiences with a mind toward giving you ideas for potential coverage options.
Florida resident owner-operator Bo Henry
Henry has been a one-truck owner for six years, and started driving in 1997. He always wanted this, having grown up learning from his father, who hauled for Mayflower for decades. For the last five years, he's owned a 2016 Cascadia and is an independent contractor with a larger entity providing specialized services. Below find his story, in his own words.
"First thought is if a person falls ill just once, it can wipe you out." --Bo Henry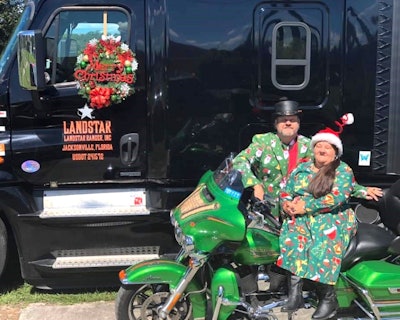 Before I had insurance, I spent 20 years paying off medical bills. And then when the Healthcare.gov marketplace became available, we enrolled. In 2020 and 2021 my wife and I had more than $1 million worth in health expenses. I am still saddled with $60,000 on charges from surgery that was out of the HMO network that we negotiated with the hospital
Five months out of work, with both of us contracting COVID along with waking in my bunk in a city away from home nearly bleeding to death internally, even with health insurance, we burned though about $50,000 in savings.
For four years, we have purchased though the marketplace. Our policy cost is based on an estimated $40,000 per-year salary, and then at the end of the year this is adjusted based on our income tax [returns and] earned income for the year. In the previous years, the adjusted payments have calculated to be an additional $400-$1,500 in a one-time charge at the end of the year. The marketplace insurance plan we chose cost us $247 per month, roughly $3,000 per year not including copays or deductibles based on the estimated earned income.
Missouri resident owner-operator Matthew Mickenberg
Mickenberg followed his childhood dream of being a truck driver – a dream so strong he wrote a letter to the editor of Overdrive when he was 12 years old. Beginning in high school at the Miami Lakes technical school's truck driver training program, he graduated in 1987. Matt then worked driving a straight truck for four years, then graduating into a tractor pulling a tanker. He became a truck owner 13 years ago, and most recently purchased a new 2018 Kenworth T680 he operates as a successful independent contractor. He pulls his own van.
"Cancelling my health insurance in 2019 was the biggest financial and business mistake I think I have ever made." --Matthew Mickenburg
I let the irrational emotions of price increases for the previous insurance policy I had for more 10 years nudge me in the wrong direction in 2020. In 2004 my cost was $280/month. By 2019 this increased to $787 and then to $1,200 for the Cadillac policy I purchased. It was like I wanted to compare the new price to the price I paid 10 years earlier. I was feeling healthy, and decided to roll the dice and canceled my insurance.
What a huge mistake that was.
In 2021, I was hit with two medical emergencies and the bills that followed within months for nearly $70,000 out-of-pocket. It was at this time that my savings of $60,000 was depleted down to $800. I also know that not having the insurance in place when I started having some problems stopped me from seeking timely health care. I am fortunate this didn't manifest itself into an even more serious, life-threatening outcome.
Knowing I could not continue like this, I applied in the marketplace and became reinsured. While the new policy requires more out of pocket than my original insurance, this is all still of great benefit at a monthly cost of $586 with a $6,800 deductible, as I continue to need care with my diagnosis of stomach cancer.
Tennessee resident owner-op Brian Guinn
Guinn got into trucking as soon as he could, in 1999, running with his own authority through 2002. He sold out and returned to college, graduating with a degree in business finance. He re-entered trucking as a company driver in 2008, then became a truck owner again in 2017, operating as an independent contractor. He manages a three-truck fleet now, and his wife Amanda owns and manages a brokering agency.
Guinn's first thoughts on health insurance have to do with the basics -- just how important it is to limit the potential financial liabilities that come with serious illness or injury. He and Amanda take an interesting approach, combining catastrophic insurance with direct health care they pay privately to a local doctor. At a cost of $50 per month each, their basic needs are covered under the private-pay plan. There is no insurance involved in that care -- think of it more like a subscription fee.
[Related: Health-share plans prove to be attractive insurance alternative for many owner-ops, small fleets]
And each year now, when the federal exchange opens, Guinn reviews the changes in available plans and selects what seems reasonable to cover potential catastrophic medical events. With a very-high $10,000 deductible, their cost per month for their plan has been about $540 per month, $6,480 per year, to cover both of them at their current estimated earned income.
Guinn wanted to share that, in spite of how much more complicated health care is getting, the main exchange at HealthCare.gov in no way feels difficult. You just need to set aside the time to take care of business, as discussed above. One time-management plan he's used is to block out the first Monday of each month to catch up any bookkeeping and/or manage these other responsibilities, like making health care decisions.
As for me, I'll stress that like your truck and its preventive maintenance needs, your health depends on your personal decision to invest in yourself. For any of you without health insurance, I urge you to recognize the seriousness of your risk exposure. Set a reminder and an alarm in your calendar for at least one whole day to investigate your options. Then go directly to the source and ask your questions, and learn for the sake of your family's future -- and your own.
A quick tip on prescriptions:
When you need to fill a prescription, my wife, Marcia, suggests the GoodRx app. Find the pharmacy with the best price and ask your doctor's office to forward your prescription to this site or request a hardcopy of the prescription you can take where you want to later.
---
Find more information about health planning and insurance selection, among a myriad other topics, in the Overdrive/ATBS-coproduced "Partners in Business" manual for new and established owner-operators, a comprehensive guide to running a small trucking business. Click here to download the newly updated 2022 edition of the Partners in Business manual free of charge.