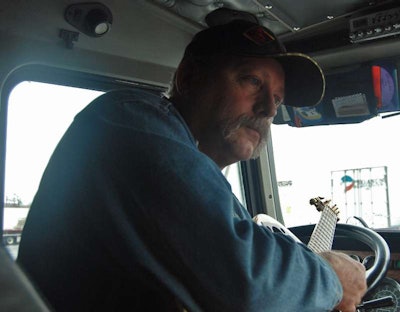 Independent owner-operator Howard Salmon's moving "Who Would They Look Up To?" track, originally released on his 2009 record "These Trucks Are Made of Gold," is a special one for him — the first song he ever wrote, after all. He tells the story of what inspired the song, a moving take on the elemental nature of what it takes to be a role model for children, in the podcast below.
The track is also newly being offered as a free download via a central website Salmon has built that also encourages parents and truckers around the nation not only to hew to song's message but to donate to their local schools and national mentoring programs like Trucker Buddy. Salmon recorded the track while working as a Trucker Buddy himself with an elementary school class in Anderson, Calif. — the students in that class make up the voices on the last chorus, which you'll hear in the podcast.
The owner-operator of a long-running 1999 Kenworth W900 says he "hopes this song will eventually reach every child, parent, teacher, parent-to-be and also people who do not have children, giving them a message they will always keep in the forefront of their mind."
Now relocated to Wisconsin, Salmon, Overdrive Trucker of the Month in October 2009, will be performing the song with students of Park Elementary in Cross Plains as part of the school's annual concert March 20.