Live from the Kay Bailey Hutchison Convention Center in Dallas, Texas, trucker and singer-songwriter Tony Justice delivered this performance to an appreciative crowd made up primarily of drivers attending the Great American Trucking Show here in Dallas.
If I thought he couldn't possibly do any better than he did last year opening for John Anderson with an acoustic-only four-song set … well, I'd have been dead wrong. This was just the second time I've heard Justice with a full band in a live venue setting, and I'll just say he brought the house down with several songs from his "Brothers of the Highway" record, from the title track to the "Highway Junkie" up-tempo opener. If you didn't make it to the event, listen in above and below — this one's for you, as Justice emphasized throughout the show, expanding on the strong driver-brotherhood theme in the record.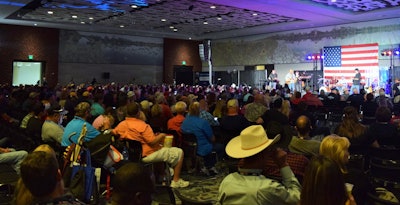 Well worth a full listen, the performance, the band backed by the American flag you see in the picture here, ended with the live debut of his "Stars, Stripes and White Lines" patriotic anthem, planned for release with his next record, as we talked about in my podcast interview with him a couple weeks back. Hit that link to hear samples from "Brothers" and more about his plans for the next year or so.
Enjoy.
Podcast: Play in new window | Download