ATBS' Richard DeForest opened the Friday session of the Overdrive/ATBS Partners in Business seminars last week at the Great American Trucking Show by asking for a show of hands. Who thinks there's a problem with a driver shortage? he asked. Just a few hands among the scores assembled were raised.
"A driver-turnover problem?" he went on. Most every hand in the Truckstop.com Theater at GATS then went up. "Driver turnover wins, by a lot."
The largely owner-operator audience on hand for the presentation responded to DeForest's message that turnover at fleets (aka fleets' difficulty hanging on to the drivers they have), rather than any real shortage of those qualified to do the work, is driving all the talk of a so-called "driver shortage," exacerbated in part by devaluation of the driver at points all along the supply chain. Feel-good messaging from the American Trucking Associations beyond the organization's well-known driver-shortage predictions tends to exacerbate such issues. DeForest showed this slide as evidence: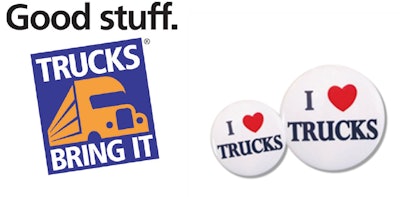 "We don't have a 'truck retention' problem," DeForest said, "and no truck ever showed up and delivered a load that I know of without a driver behind the wheel."
For too long, the situation at many carriers for drivers has been one in which "the rewards don't match the requirements of the job," he added, and that won't change until freight rates are able to support a better annual income for the most important part of the supply chain — the driver.
Fortunately for owner-operators, a measure of control of income exists in close attention to costs, he said, but shippers need to really feel the true value of the driver if freight rates are to get to a point where an adequate income is industry standard.
Download ATBS' Friday presentation via this link to follow along with the audio of DeForest's portion of the presentation. The beginning of the audio corresponds with p. 1 of the pdf; p. 16 corresponds to the audio's end.
Podcast: Play in new window | Download