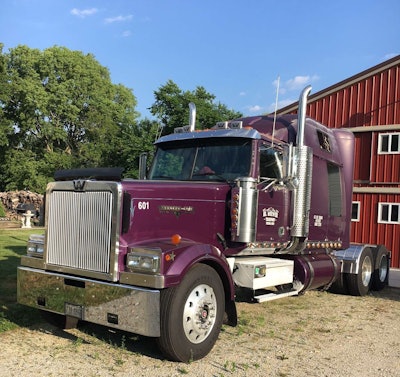 While it's probably more common with brokers in the spot market when rates turn for the worse in any given area or commodity, as many an owner-operator knows, shippers can beat you up on rates, too, with competitors coming in and attempting to undercut the contract.
Regular readers will recall my May talk on ELDs' potential (or not) rates impact with B.L. Reever Transport owner-operator Monte Wiederhold, based in Southwest Ohio. He purchased the now-nine-truck fleet from Mr. Reever out of the Toledo area back in the 1990s, when Wiederhold was leased there, and just continued with a core of customers that has shifted over time as van rates tanked out of the Port of Toledo and Wiederhold moved to what he and the owner-operators he's leased are doing today — mostly flatbed freight from a variety of direct-ship customers, using brokers occasionally (and some vans).
He tells part of this story in the podcast you can hear in the players above and below, where we also talk shipper-direct freight and managing customer relationships, messages which can also translate to dealing with broker-customers you have close relationships with.
We started the conversation talking about that direct-customer base Wiederhold notes he's been fortunate to maintain through the recent "ebb and flow" years of spotty freight and demand in the wider economy. Direct customers have driven the solid core of the business, throughout it all, and an emphasis on timely communication and dependability has helped immensely to keep them around.
And just how has he managed to keep from getting beat up on rates by parties coming in to undercut him with customers? Well, take a listen:
Podcast: Play in new window | Download
More from this podcast series of one-on-ones on business topics: