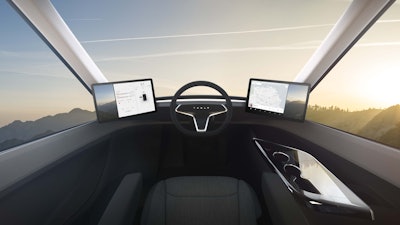 No telling precisely how the Tesla Semi will perform when a ready-for-the-road model hits the market, presumably in 2019. But for now it's safe to say the all-electric truck has stolen the show as far as new truck announcements for 2017.
Overdrive Equipment Editor Jason Cannon attended that announcement in Hawthorne, California. In the podcast below, an interview with K.C. Phillips on the "Road Dog Live" program on Sirius XM, Cannon shares his impressions of Tesla's tightly controlled event. Cannon, Phillips and listeners also discuss features of Tesla's futuristic tractor, including pricing, charging times, torque, an auto-pilot feature, visibility from the center-mounted seat and more. Take a listen:
Podcast: Play in new window | Download
If you've missed our video on the highlights of Tesla Semi's debut, narrated by Cannon, it's also below.