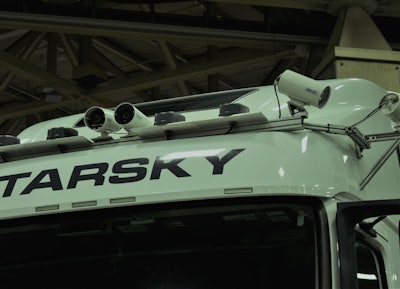 Something a little different on Overdrive Radio for this week – the podcast will transport you like so many futuristic teleporting time machines back to the Thursday, Aug. 22, panel at the Great American Trucking Show in Dallas. That panel was all about the notion of a "driverless" truck and where drivers really fit in as such a thing gets inch by inch closer to an actually real thing, widely utilized. (Find my brief contemporaneous report from the panel, a discussion with Starsky Robotics' Paul Schlegel and Pronto's Ognen Stojanovski moderated by our own Equipment Editor Jason Cannon, via this link.)
$64,000 question, as Cannon brings up toward the end of the discussion: What's the role of the driver look like at it changes over time, becoming more complex, perhaps, with layers of technology, or what exactly?
The answers are complicated, for certain, and worth contemplating when thinking about the future of the trucking business. One thing's certain, as Stojanovski made clear: "The marketing departments of our companies are years ahead of where the engineering departments are."
Starsky Robotics, founded on the notion of improving the lives of truck drivers "out of the cab of the truck," Schlegel said, is testing systems that involve not one but two drivers per truck (in-cab and remote) as it attempts to build out techs that are reliable from a safety perspective, not an easy task in the real world, no doubt. It's close on various short lanes to relying exclusive on a remote driver, Schlegel says.
Take a listen to much of the discussion via the player here:
(It's available in video at bottom, with audience questions/commentary at the end, as well.)
It bears mentioning, too, that driver-assist techs were brought up more than once in conversations I had with owner-operator attendees throughout the GATS show this year, as they have been for years now. One trucker in particular singled out a location where an active-braking system on a company truck he'd been piloting in recent years logged more than one false positive, he guessed mistaking a bridge up ahead as an object in the roadway. We've heard about — and colleagues here have written about — such tech mistakes before.
The location the hauler singled out in conversation at GATS: The bridge over I-81 at exit 217 in Hartford, Pa. Have you experienced similar there or elsewhere? Tap the call button below or dial 530-408-6423 if you're reading a desktop to leave a message detailing your experience.