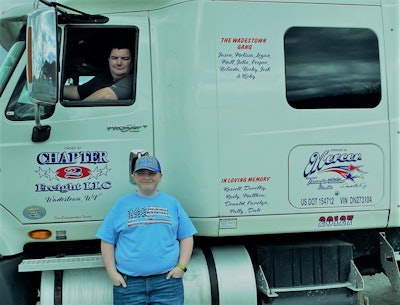 Special thanks to 13-year-old Logan Miller in this April Fool's Day edition of the Overdrive Radio podcast, no kidding. Miller is the young man I wrote a little about on Friday, who's been serving sack lunches in appreciation of professional drivers at the I-79 rest area in West Virginia, southbound side just inside the Pennsylvania state line. Logan Miller has partnered on an "Orange Ribbon Campaign" with the folks at Trucks With Room to Spare, an attempt to promote the use of orange ribbons by businesses and individuals offering various measures of direct support to owner-operators and other drivers out there who need it in these times out on the road.
Logan is the son of West Virginia-based owner-operator Jason Miller, who's been trucking through the COVID-19 crisis leased to Mercer Transportation with his International. Hear more about the Orange Ribbon Campaign, and when you can expect Logan's lunch to be back available on I-79 in the near future, in the podcast. Take a listen:
Podcast: Play in new window | Download
Also in the podcast:
A message of appreciation from Jeff Clark to support staff at truck stops for tireless efforts to stay a lifeline for drivers on the road. And one caller to our podcast line's observation about just what the availability of 2 a.m. parking at the West Memphis Petro says about where the economy is and could be headed.