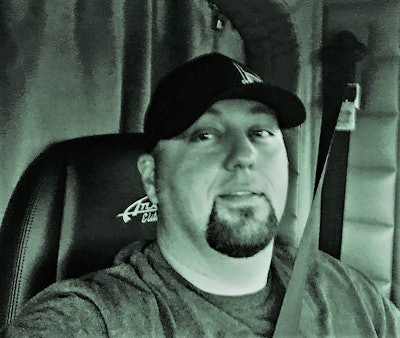 For this edition of Overdrive Radio, a talk with Generations Express independent owner-operator Bryan Hutchens. Among the subjects: How he feels about the hours of service changes set to go into effect as early as September, if things hold.
Regular listeners and Overdrive readers may well remember him from an organizing role he assumed with others around last year's That's a Big 10-4 on D.C. outreach effort on the National Mall in October. The last couple of months, he's seen business slow down a good bit, as have so many, and sold the business's second truck, a 2007 model, early in the pandemic period, reducing costs. His insurance renewal came up, too, and his agent was able to shop coverage around and found insurers aggressively competing with each other – Hutchens ended up with a substantial reduction. Maybe, just maybe, there's a bright spot in all this.
Owner-operator Hutchens spent parts of Tuesday and Wednesday this week in Washington, D.C., with his 1996 Peterbilt 379 and 53-foot step deck parked with the assembled, he guesses, more than 100 trucks, probably double that of drivers and, in some cases, their families.
Wednesday, notably, after Hutchens departed to pick up a load to take him back to his home base in Oklahoma, the group in D.C. was paid a visit by former North Carolina congressman Mark Meadows, President Trump's current Chief of Staff, and his security detail. Meadows pledged dialogue to continue, and insisted they had the administration's attention on rates and transparency issues – though he stressed the reality, that, well, the entire country is hurting right now.
What Hutchens found in terms of issues discussed in his brief time in conversations in D.C. he describes in detail. Take a listen: