Another edition debuts today in Overdrive Radio's re-air of the Over the Road podcast series, coproduced by Overdrive and PRX's Radiotopia podcast network and hosted by Overdrive's own "Long Haul Paul" Marhoefer. Here, the host's "Long Haul of Fame" tells the stories of five of Marhoefer's personal heroes -- longtime professional driver Idella Marie Hansen; owner-operator Big Jim Selkirk; trucker Ken "Shoestring" Waugh; overnight radio D.J. Marcia Campbell; and, finally, a tribute to one of those heroes who's passed on, New York-based Fast Freddie Lieb, the "Pope of Pompano" running out of the Florida Pompano Beach market and up and down the East Coast, where Marhoefer knew him best.
What emerges over this episode is an indelible take on recent trucking history through these individual stories, including that of Marhoefer himself. Take a listen: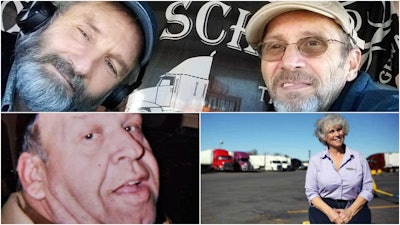 It's among my favorites in the eight-part OTR series. As you might imagine, given how long I'd worked with Marhoefer's stories for Overdrive by the time we started working on Over the Road, I'd heard about many of these men and women in conversation with him, if I didn't know them already. Their stories, told in their own words and with Marhoefer's guiding hand … paint an indelible portrait of trucking, full of the highs and lows of life and work.
Though I'm giving it a go here, it's indescribable, really, one of those you-just-have-to-hear-it kinds of things. And that can be said for a great deal of the entire series. Catch all of Overdrive Radio's re-airs of it thus far in order via the playlist below.